Case roundup: AOpen H500W and A340, Chyang Fun CF-2029B, and FastWin FW-168A
Review date: 11 December 2002.
Last modified 03-Dec-2011.
Cases, cases, cases. Roll up, roll up, come one, come all, get your cases while they're, um, oblong. And made of metal.
So much for the introduction. Have some reviews.
AOpen H500W
AOpen's H500W is a quite cheap ($AUD132, delivered) black case, with all of its externally accessible drive bays hidden behind a hinged door. Hidden bays let you install plain old beige drives in your zooty black case without spoiling your street cred, because the unsightly piebald front panel is only visible with the door open. The door also gives the H500W a pleasingly server-ish look.
This isn't a Serious Corporate Computing case, though. You certainly could build a perfectly good little server in it, but the H500W has no practical features that an ordinary beige case around the same price point doesn't.
The door has a simple push-latch to open it, which means it won't open if a drive behind it is trying to eject its tray. That's unlikely to do any harm - CD-ROM and DVD-ROM drives that can't extend their tray should all give up after pushing for a moment - but you don't want a case like this if you're forever swapping discs.
The H500W's reset and power buttons are right next to each other in the middle of the front panel, below the door, which might be a bit annoying. It's a good looking box for the money, though.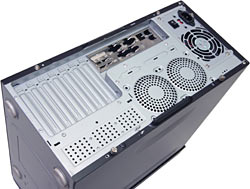 The back panel. Like most cases, the H500W comes with a Power Supply Unit (PSU); this one's a not-too-exciting 250-watter, but that'll do for a non-stacked PC. The "250 watt" PSUs that come in many cheap cases are, um, not a very good choice for mission-critical applications. But this one's an AOpen-brand unit and so should be able to do more or less what it claims, and keep doing it for a few years straight without dying.
There are two 80mm exhaust fan grilles on the H500W's back panel, but no fans come mounted there as standard.
The H500W's right-side panel (as you look at it from behind) is attached with a couple of thumbscrews, which is nice; no screwdriver is needed to get into it. There's a second set of screw holes, which you can use if you want to affix the side panel with normal hex-head Phillips screws, and there's also a pair of padlock tabs, so you can keep your case contents secure from anybody not equipped with chunky tinsnips or a junior hacksaw.
The side panels slide off easily, and aren't particularly difficult to slide back on. Fit and finish isn't fabulous, but it's a lot better than you'll find at the real bargain end of the market.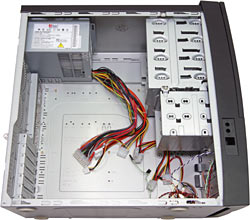 Inside, the H500W shows off its four 5.25 inch bays (all externally accessible, of course) and three 3.5 inch bays (two of which are externally accessible). The 3.5 inch bays are removable for easier drive mounting, there's a front intake fan mounting point (with no fan in it as standard), and the stock PSU gives you five regular four pin power connectors, two floppy drive power connectors, and the now-standard four pin ATX12V "P4 connector", as well as the regular ATX and AUX plugs.
Note, by the way, the less-than-totally-sightly holes in the side of the case's front bezel, to the right in the above picture. There's at least one H500 variant that has audio and USB connectors there, but this one doesn't. Just the holes. Hey, case modders can mount their fan switches there, or something.
All of the steel edges inside the H500W that you're likely to touch are rolled, to stop you slicing yourself open on them. If you poke around, though, you can still find some sharp bits. I've seen far worse.
With the plastic front bezel unclipped, the one-size-fits-many nature of the H500W metalwork is clear. There are unused holes all over the place. There's also a punch-out piece, at the bottom of the front panel, where more front connectors can go in another version of this case. If you want a bit more ventilation, popping that piece out and mounting a front fan will give it to you.
When this review was first written, Aus PC Market sold the H500W for $AU132. For that price, it's a perfectly good case. If you want to build a budget server, or just a cheap black PC, the H500W is a fine starting point.
Aus PC Market don't sell it any more (click here to see their current case-related products), but you can still try a price search at DealTime.
AOpen's page for the H500 line is here.
AOpen A340
Is it a micro-desktop? Is it a super-mini-tower?
I don't believe it - it's both!
AOpen's A340 series cases are microATX boxes for people who want a slimline PC built from something vaguely resembling standard components. Like other super-sleek microATX cases, this one can only accept half-height expansion cards - but that's not likely to be a big problem, because it's not hard to find Socket A and Socket 478 microATX motherboards with video, sound and network adapters built in.
If you want lots of drive bays, this case obviously isn't the way to go. There are only two externally accessible bays - one 3.5 inch, one 5.25 inch, with doors over both to cover unsightly beige drives. And there's one internal 3.5 inch drive bay, for your hard drive. But that's it.
The door over the external 3.5 inch bay has a push-latch - push to open, push to close. The one over the 5.25 inch bay is spring loaded, so the ejecting drive tray can push it open (don't try it with a slot-load drive).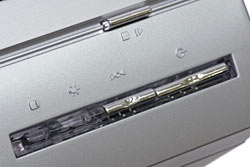 The drive and power lights, and the shiny reset and power switches, are all in one line on the front. Above the two usual switches, though, there's an odd "play/skip" button, which suggests some sort of unusual electronic setup...
...but which, on the back of the front bezel, is just connected to a springy plastic pusher arrangement which you'll probably be able to set up to push the appropriate button on the front of your CD-ROM or DVD-ROM drive.
The A340 (here shown with its floppy drive door open) doesn't have to stand on the swing-out feet on one of its sides; you can also lay it down, like a normal desktop case. The underside of the A340 sits on stylish oval rubber inserts that don't look bad when it's standing up. If you're only using the A340 as a desktop case, you can unclip the side feet completely.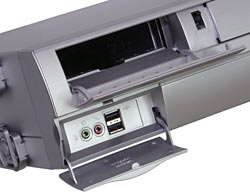 There are actually two push-latch doors on the left side of the A340's front panel - one over the 3.5 inch drive bay, and one covering the front panel audio and USB connectors. The audio connectors are fed by loopback cables, as usual; the USB connectors have split-plug connectors, which can be attached to both common kinds of motherboard USB header. Actually connecting them properly is fiddly, though, and requires you to hunt up your motherboard's USB header pinout. Which is probably in the manual somewhere. Good luck.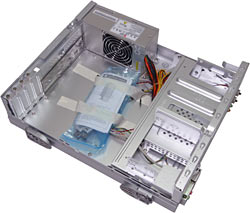 To open the A340, you slide off the top and front and half of each side of the case, all in one piece. Inside, the fit and finish are excellent, and you can see the little 200 watt PSU. This PSU's significantly more capable than the 150 and 180W units that come with a lot of microATX cases, and even they generally work well with surprisingly powerful CPUs. So this case should be able to power pretty much anything you can install in it.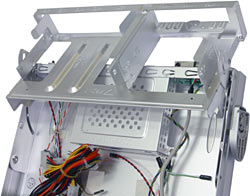 The front bays of the A340 use a novel slide-and-hinge arrangement to make it easier to get at them, and at the 3.5 inch bay beneath them. You can hinge the bays forward even when they've got drives in them; it's a good solution to the usual tiny-case knuckle-scraping problems, and it makes the A340 easier to work on. Not easy, exactly. But easier.
The A340 comes with these bundled-together, semi-rounded cables, which are essential if you want to be able to get a full complement of components into this tiny case without sitting on it to get it closed.
One of the nicest things about the A340 is that unlike some "boutique" PC enclosures, it's not stupidly expensive. When this review was first written, Aus PC Market sold it for $AU192.50; for a good looking and well engineered sub-mini aluminium case with PSU, that's a quite good price.
If you're looking for a base for a natty little business or living-room PC, the A340 could be that base. Aus PC Market don't sell it any more (click here to see their current case-related products), but you can still try a price search at DealTime.
AOpen's page for the A340 line is here.
Chyang Fun CF-2029B
Chyang Fun make a selection of nifty looking cases; I checked out one of their super-tiny models here a while ago.
Their CF-2029B, though, is your standard-issue full-ATX-size show-off black case, with a clear acrylic front panel, glossy black finish all over the place, and shiny buttons. There's no side window, but not everybody wants a big hole in their computer. And the 2029B is only made of steel, not aluminium. And its shiny finish shows finger marks like nobody's business.
But it's cheap.
When this review was first written Aus PC Market sold the CF-2029B for $AU143.
From the back, the CF-2029B looks like an ordinary steel case, which it pretty much is, when you ignore its hot-rod finish. There are two rear exhaust fan mounts; surprisingly, one of them actually has a standard fan mounted in it, which is rather nice, at this price. And there are thumbscrews holding the side panels on, too.
There's also a cut-out in one of the expansion slot covers, which gives you an easy way to run a loopback cable out and around to a rear port. The loopback cable in question feeds a front FireWire port...
...and there are also two USB ports and two audio ports on the front panel. Both the acrylic faceplate and the painted metal under it are shiny enough to clearly reflect other things in the room - in this case, a big roll of bubble-wrap.
Gee, I love photographing shiny things.
Inside the CF-2029B, there's not a lot to report. No removable drive cages, but a decent number of bays - four 5.25 inch and two 3.5 inch bays externally accessible, and five more internal 3.5 inch bays below those. There's also a fan mount right in front of the five bottom bays, but it's unlikely to be much use, as I'll explain in a moment.
Unusually, both the USB and audio connectors from the CF-2029B front panel terminate in fiddly little split-plugs. The audio ones can therefore only be used with motherboards (or sound cards) that provide audio pin-headers. It's not the end of the world if you don't connect some or all of the front panel sockets, of course; they're just a convenience feature.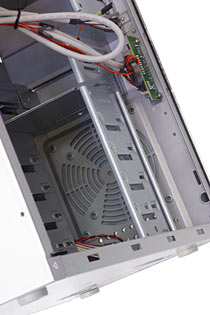 Here's another shot of the CF-2029B's lower bays, showing the fan grille in front of them. The grille is big; it can accept either an 80mm or a slimline 120mm fan. Which sounds great, until you notice that the grille seems to face solid, unperforated steel. The fan doesn't seem to have anywhere to draw air from.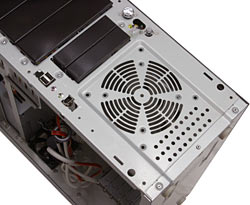 Removing the two-layer front panel reveals that there is, in fact, a shallow vent area feeding the fan grille, but it's so shallow that I strongly doubt there's much point installing any sort of fan in the intake location. It's just going to make noise, and hardly move any air at all. You might as well just populate the other exhaust fan spot, and call it a day.
For the money, though, the CF-2029B is an excellent product. It looks a lot more expensive than it is. Whether you think it looks good is a matter of taste, but at this price, you really can't complain.
Aus PC Market don't sell these products any more (click here to see their current case-related products), but you can still try a price search at DealTime. Chyang Fun's page for the CF-2029 series is here.
FastWin FW-168A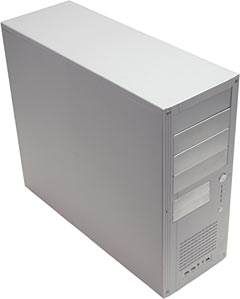 International super-brand FastWin Enterprise Ltd have, with the FW-168A, produced a perfectly good aluminium PC case. When I first wrote this review, it cost $AU253 without PSU from Aus PC Market, (as usual, that includes Sydney metro delivery), which put it only 22 bucks behind the current price of the ISO Standard Fancy Aluminium Case, Lian Li's PC-60USB (reviewed here), so it pretty much had to live up to the PC-60's standards. Then the price reduced to $AU209, which gives it some more leeway. Unfortunately Aus PC Market don't sell it any more.
Like the PC-60-series cases, the FW-168A is unusually large, for a midi-tower. It's 452mm high by 191mm wide by a rather impressive 533mm deep; (17.8 by 7.5 by 21 inches); the Lian Li is 440 by 210 by 485mm (17.75 by 8.25 by 19.25 inches). The extra depth in the FastWin case may make it annoying to fit in some locations, but it also makes it easy to work on, and means that practically no combination of unusually long drives and unusually large motherboards should cause a problem.
On the front, the FW-168A doesn't look as good as the Lian Li. The finish on its brushed aluminium panels is good, but the sheet metal bay covers don't quite match the cast aluminium front panel.
The power and reset buttons are really shiny, though. That may count for something.
The front panel has two USB connectors, two audio connectors and one FireWire connector. You'll need a motherboard or expansion card with sockets for the FireWire and audio cables to plug into; they're the regular extension cable type. The USB sockets are fed by single-piece plugs, which is good if they match your motherboard's USB headers, and bad if they don't.
Lian Li currently uses split-plug connectors for their cases' front USB ports. Split plugs, as mentioned above, work with every motherboard that has USB headers. But they're a bit of a pain to attach.
The PC-60 variants have one pre-mounted rear exhaust fan; the FW-168A has two. It also has nifty raised hex-stamped grilles over the rear fans, and over the ventilation opening above the expansion card area, and it's held together with thumbscrews, like the Lian Li. But the FastWin case doesn't have a slide-out motherboard tray, or a removable plate for you to mount your PSU on, like the PC-60.
Inside, the FW-168A offers the four 5.25 inch and two 3.5 inch bays that you can see from the front (the PC-60USB has one more externally accessible 3.5 inch bay), plus another five 3.5 inch bays, behind two front intake fans.
Current PC-60-series cases have one more 3.5 inch bay than the FW-168A offers, and the PC-60s have always had a three-setting speed control for their front fans, so you don't have to run them at full power when there aren't a bunch of drives behind them. The PC-60s also have a filter over their intake fans; the FW-168A doesn't, and will suck dust into itself.
The FastWin case's lack of a slide-out tray is compensated for by its very deep design, though; you shouldn't be terribly cramped working on pretty much any motherboard in this case.
The bays in more detail. Both 3.5 inch cages are removable, and every hazardous edge is rolled.
Overall, the FW-168 isn't rubbish, but isn't great either. Aus PC Market sell Lian Li cases for very good prices, by world standards, so slightly lower quality aluminium cases like the FW-168A suffer in comparison. At $AU209, though, the FW-168A is a good deal.
FastWin's page for their aluminium cases is here.
---
Buy one!
Aus PC Market don't sell these products any more (click here to see their current case-related products), but you can still try a price search at DealTime!