CPU coolers compared, page 2
Review date: 26 May 2001.
Last modified 03-Dec-2011.
Arctic Cooling Super Silent 2500
Arctic Cooling's Super Silent 2500 is exactly the same as the 2000 reviewed on the previous page, except it's got a 2500RPM fan. More power, more cooling, more noise - but probably not more noise than you can tolerate.
This fan's quieter than most case fans, which means that your PSU fan is probably louder. Buried inside a case, this cooler can be treated as inaudible, just like the 2000.
The faster fan helps the Super Silent design's performance, dragging it down to 0.82°C/W. Still a long way from overclocking-cooler performance, but not too awful.
The 2500 retains the 2000's advantages, but pulls back from the brink of truly lousy performance. And it costs the same, and comes with the same neat little grease-syringe. It's the one I'd buy.
Bitspower manufacture coolers using a "skived" heat sink - one in which each fin has been raised from a solid block of metal by a shaving blade. Skived fins are a bit rough, which is a good thing, because it gives them more surface area. The fins on a skived sink can also be thinner than they could be if the sink were made by the usual cheap extrusion processes. The skiving process has left these fins with a quite sharp edge, too; they're about as sharp as a butter knife at the top where the fan blows on them, and that can only help air flow.
The NP13D is a low profile cooler for rack-mount systems and similar cramped cases. It's the best such cooler I've seen so far; it's got a quiet fan and an OK screwdriver-attach clip, which are both ordinary enough features, but it managed an impressive 0.94°C/W performance result.
That beats Alpha's PAL15 by more than 10%. And it bodes well for the performance of the bigger Bitspower coolers, below!
Bitspower's latest entry in the low profile rackmount/book-sized-PC/goofy Internet appliance CPU cooler market, the NP15S has another of their trademark skived aluminium heat sinks, not unlike the one in the NP13D, but a bit taller. The cooler itself is about the same size as the NP13D, though - 60mm square, but only 26mm high. In case you care, it weighs in at 120 grams.
The 4800RPM fan on the NP15S is quite quiet, and the cooler's retained with a simple one-piece screwdriver-attach clip. Its modest height means it ought to fit in all but the most ludicrously cramped enclosures, but it'll need a bit of headroom over it so it can suck some air.
The NP15S's bigger heat sink helps it out; it scored 0.92°C/W, beating the NP13's result by a hair.
This still isn't a cooler for your steaming overclocked Athlon, but as slimline units go, it's a winner.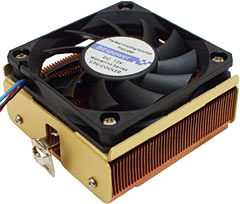 Bitspower's NP18MCS is a low profile skived-fin copper cooler whose super-slim fan has an alleged 3.48W power rating.
It's impressively weighty for a low profile cooler, the fan moves a reasonable amount of air without making an obnoxious noise, and its copper base plate is very flat.
Unfortunately, the NP18MCS also has a quite bizarre clip design. It's just a normal one-hole single-piece spring clip, apparently meant to be attached with a screwdriver. But, for reasons I cannot fathom, the little pouch into which one pushes the screwdriver has a split down the middle, instead of being a solid band. It's just two tabs, one on either side of the driver. The driver is thus naturally likely to bend the tabs outwards.
A small screwdriver will bend out the tabs a little and then escape through the gap between them - straight down into your motherboard, most likely. A big screwdriver won't fit at all. You need just the right size of driver to use this clip.
Even then, the thing is pretty springy, which means there's a good chance the driver will escape anyway. And pop will go the motherboard of your one unit server, or other thing into which you need to put a low profile CPU cooler.
Maybe there's a trick to this clip that I haven't figured out. Beats me what it might be, though. I could only get the NP18MCS onto my test rig (which puts clips under a bit more tension than a real CPU) by loosening off the vise and rotating the hook pieces at the end.
That said, the NP18MCS is a really good performer, for a low profile cooler. Heck, at 0.59°C/W, it beats a lot of full-sized coolers.
Its fan is far from silent, but also far from a high power screamer. So this'd be a real option for a high powered slimline server, provided the server's enclosure had reasonable through-flow ventilation.
If Bitspower change the clip on the NP18MCS, it'll be a real winner. You can change the clip yourself, of course; just unscrew the fan, lift the clip out, and replace it with any other one of similar shape.
If you don't want to do that, though, then hold off buying this cooler until it comes with a more sensible retention mechanism. Or until someone tells me how to attach it easily.
Bitspower seem to be perfectly capable of making high performance CPU coolers with no copper in them at all, so you'd think a copper cooler made by the same company, using the same skived-sink design, would pretty much have to have seriously good performance.
Well, the NP60CD is such a cooler. Tall pink-copper fins, a high power 60mm fan with a finger guard, and a simple one piece single hook clip that is, according to ancient tradition, easy to attach if you've got a screwdriver, and practically impossible otherwise.
The heat sink in the NP60CD stands up to close inspection. A decently flat base - I've seen better, but I've seen worse too - thin and even fins, good cosmetic finish...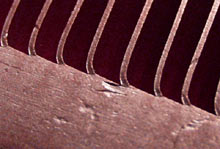 ...and no obvious signs of damage at the points where the skiving knife's peeled up the copper into the fins.
The NP60CD's high power fan rams a lot of air through its many thin fins, and pushed it to a good, but not amazing, 0.57°C/W result. This is a real overclocker's cooler, with the annoying fan noise to match, but it's one among many. If you find an NP60CD selling cheaper than the various other members of the copper-sink, loud-fan brigade, and that's the sort of cooler you want, buy it. But I wouldn't pay international shipping to get one.
The NP60CS is the little brother to the NP60CD. It's got a medium power fan (a lower power, quieter one is an option), a somewhat shorter skived copper heat sink, and the same one piece clip.
When I tested it, though, the NP60CS managed only 0.64°C/W; a hair better than the aluminium NP60-series heat sinks of similar dimensions with the same fan power, but not enough better to justify much more money.
Other reviewers, however, reckon the NP60CS is a top-flight cooler. Hmm.
I thought the discrepancy might have something to do with the base of the heat sink on the NP60CS I got for review. It's flatter than your average cheaply cast aluminium unit, but not nearly as shiny as the polished bases on most of the Bitspower aluminium coolers.
So I did a quick lapping job on the heat sink, to see if it made a difference.
Quick and dirty heat sink base flattening isn't rocket science; you just need a piece of glass or other similarly flat surface, and a few pieces of wet and dry (silicon carbide) paper.
Put paper on glass (tape the edges down, if you know what's good for you), splash some water on it, put heat sink to be flattened on paper, scrub back and forth while making sure not to tilt the sink. If you do tilt it, you'll round off the edges, which is unlikely to be a disaster but doesn't help.
Wash off the paper every now and then to get rid of the accumulating metal dust clogging the abrasive, and switch to finer and finer grades as you go, to get to a high polish at the end.
I was in a hurry, so used 240 grit for the material-removing phase and then gave the sink a polish with some 1200 grit. The result wasn't an immaculate job, but it was as good as you can expect from only half an hour invested.
The total effect of this effort on my part was, to one significant figure, zero.
I was not defeated. Perhaps the fan was too close to the heat sink, and suffering from turbulence problems caused by the close-set fins. I raised the fan with some spacers made of high-tech art mastic.
Nope. No difference.
Oh well. That's just what you get from this cooler, I suppose, on my test rig at least. Perfectly all right performance, but nothing that'll set the world on fire.
A medium sized cooler with a well-executed two-part clip, the NP60D has a full height fan with reasonable power, and another of those Bitspower curved-fin all-aluminium skived heat sinks.
Apart from the unusual looking heat sink, the only odd feature of this cooler is the clear protective plastic over the whole of its highly polished base. It's there to protect the base; you peel it off before you use the cooler. If you forget to peel it off, or don't even notice that it's there (there's no obvious pull-tab or square of thermal goop under the plastic...), you're likely to be visiting Melted Mess Country if you install this cooler on a high-heat CPU.
With the plastic removed, the NP60D managed a highly creditable 0.66°C/W, a more than acceptable score for an all-aluminium cooler that doesn't have a screaming fan.
This cooler's easy to attach and works very well. Just make sure you remember about the plastic.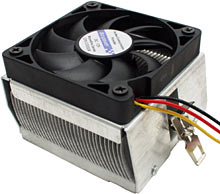 All-aluminium heat sink with polished base (covered with another one of those treacherous plastic sheets), medium heat sink height, 4900RPM low profile 60mm fan (bringing the total cooler height to only about 42mm), standard Bitspower two-piece clip; the NP60E is, basically, the "NP60D Lite".
As such, you'd expect OK but un-amazing performance from this decently quiet cooler, and that's what you get - 0.72°C/W. Perfectly fine for stock-speed operation of all but the fastest CPUs, but not an overclockers' special. Actually, with passable case ventilation, you'd probably be fine running any Athlon XP CPU with this cooler. I'd go for something a bit more powerful though, if I were you.
The NP61D looks fancy, with a shiny cage around its fan, but it's basically just an NP60D with a taller heat sink - and with the same polished base.
This cooler's about 55mm high, and has Bitspower's easy-to-use two-piece clip, and makes a middling amount of noise. It may be bigger than the NP60D, but it only scored slightly better - 0.65°C/W. That's close enough that they might well be exactly the same, for all I know.
Bitspower seem to be replacing the NP60D with the NP61D; fair enough. I reckon it looks niftier. Don't expect a big performance difference, though.
The big boy of the Bitspower skived-sink range has the same fan as the NP60D, but a bigger heat sink.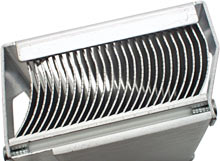 It's another skived unit, all-aluminium once again. Like the NP60D, this cooler has a slight overhang on the ends of the fan mount frame, to help the air flow through as much fin area as possible.
The NP80D has the same easy-attach clip as the NP60D, makes no more noise, and it scored 0.57°C/W. This is an outstanding result for an aluminium cooler with a medium power fan, and it makes this cooler a serious contender if you're looking for something that should be able to handle a quite seriously overclocked CPU, without making your case sound like a Lockheed test facility. Recommended.
Bitspower tell me they're looking for retailers around the world. Here in Australia, Aus PC Market have picked up the NP80D; it's $AU44 delivered. Australian shoppers can, I remind you, click here to go to the Aus PC site!
If you're a CPU cooler reseller, you'll find Bitspower's contact details on their site.
Bitspower's all-aluminium skived-fin NP81 heat sink can accept 70 or 80mm fans; they use the NP81 as the base of a few coolers.
The NP81DS20 has a low power 2000RPM fan, which makes it the "Super Silence" model, for people who want reasonable cooling power with close to no noise.
This cooler's rated at 23.5 A-weighted decibels (dBA), and it is indeed very quiet when running. It's got an easy to attach three-hole clip, too, so its large heat sink ought not to endanger your CPU socket if you knock your computer over.
The down side of all this, of course, is that you don't get stellar cooling performance. At 0.73°C/W, the NP81DS20 works as well as various cheap coolers that are smaller and louder. But that's likely to be enough for practically any Socket A CPU at stock speed, as long as your case has half-decent ventilation and the room temperature isn't sauna-like.
An overclockers' special, this cooler is not. But it'd do nicely for a lounge room MP3/DVD machine, or for a bedside computer you don't want to turn off.
Same again, only now with a 3000RPM fan. The NP81DS30 still isn't a high powered cooler - its fan only has a 2.76 watt power rating, and its 34.2dBA noise figure isn't going to raise the roof. But the extra fan muscle gave it a creditable 0.66°C/W rating.
Apart from the fan, this is the same cooler as the NP81DS20, with the same pleasing clip. The DS30 I got for review had been on the corner of a badly mistreated shipping carton, and its fan-mount frame was bent - the above picture is of the cooler's good side. The fan ran a little rough, but the heat sink was undamaged and the clip was still OK, so it made it through the test.
The NP81DS30 has as much cooling power as the vast majority of CPUs need, again provided that you're not abusing the PC by never cleaning the intake fan grille, or putting it next to the radiator.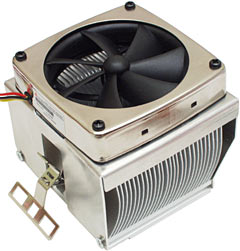 This NP81-series cooler has the same heat sink as the others, but with a different fan mount, on which is installed a very different fan.
The NP81DT58 is, I think, the first CPU cooler to ship with one of Y.S. Tech's Tip Magnetic Drive fans.
The fan's interesting enough that I wrote a whole review of it, here.
I talk about this cooler in more detail in that review. Apart from the fan, though, it's just another NP81-series cooler, with the same good qualities.
The NP81DT58 only managed to outperform its conventionally-fanned brethren by a fairly small margin - it scored 0.62°C/W, despite making substantially more noise than the NP81DS30. But that's partly because this is a large all-aluminium heat sink - which is never the way to go for top-flight performance - and partly because the TMD fan is a 70mm diameter unit, the only one available to date. 80mm TMDs should perform better.
Check out the TMD review for more on why you might want this cooler, no matter how it performs.
Cho-Liang CB0307U-17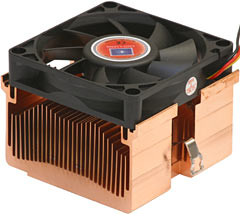 Cho-Liang's CB0307U-17 is a "copper-look" cooler - aluminium, but with (somewhat) copper-coloured plating to make it look as if you spent more money. The fact that the heat sink's obviously an extrusion, which isn't how copper heat sinks are made, rather gives the game away - but at a glance, it looks quite nice. And I dare say it's not a pricey product.
The CB0307U-17 has a 70mm, 15mm high fan with a 2.8 watt run power, which makes enough noise to disqualify it for silent-computing use, but is still much quieter than the high-grunt fans on a lot of overclockers' coolers. The cooler's retaining mechanism is a simple one-piece one-hook screwdriver-attach clip.
The moderately powerful fan rescues this cooler from complete mediocrity; it scored a perfectly OK 0.65°C/W. So it's not one for the rabid overclocker, but neither is it rubbish.
Cho-Liang CB0315U-17
This copper cooler from Cho-Liang sports their standard 70mm, 15mm high medium power fan, which I quite like; it'll start spinning from less than three volts (silent computing enthusiasts ahoy), it moves a respectable amount of air, and it doesn't make a nasty racket doing it. The extra 10mm diameter over most Socket A/370 cooler fans makes more difference than you might think.
Apart from the fan, though, this isn't a very exciting copper cooler. Copper coolers are about looks as much as performance, and this one's not a high scorer cosmetically; the fins are a folded-and-bonded multipart fabrication, and they're none too evenly arranged. That probably makes no measurable difference to the heat sink's performance, but house-proud case-modders aren't likely to be enthused, nonetheless. There's a nice Cho-Liang name and URL embossed on the sides of the sink, but the fins aren't too pretty.
The CB0315U-17's retained by a three-hole no-screwdriver-needed two-part clip, which ought to reduce the chance of CPU socket hooks being ripped off if the computer's knocked over or dropped.
With a 0.60°C/W score, this cooler certainly isn't junk, but neither is it a contender for any awards. Despite its ordinary performance, though, you may see something suspiciously similar to this cooler on your local PC hardware joint's shelves, because Cho-Liang offer a "Name-Mark-On-Product" service to bulk wholesale buyers. That means that they'll emboss whatever you want on the side panels if you order enough coolers, which is a better rebadging option than the usual mere sticker.
Since, if you can find it at all, you're likely to be able to find the CB0315U-17 quite cheaply, it's an OK product. Not worth sending away for, but a safe enough buy, for a bargain-copper-cooler price.
Connectland CEK-07-610B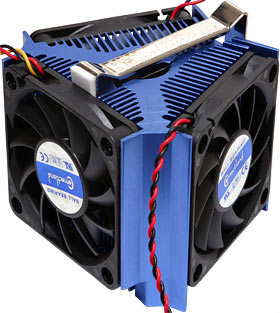 Made by Sibak Tech, this funny looking cooler works better than a lot of avant-garde designs. It gets its own separate review, here.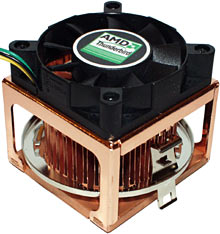 An Asian Street Market Special, this one's got "COOC" on the box, so that's what I'll call it.
I'm not in the habit of reviewing coolers that I don't know who makes them, on the grounds that it's often too difficult to tell whether you've found the same one I reviewed on a cheap-PC-parts stall, or just something that looks similar.
But I don't think many coolers are likely to look similar to this one, do you?
This is an all-copper exotic with a radial-fin core enclosed in a copper frame. It's heavy, it's got decent fin area, and it's got a normal top-mounted fan of no particular merit.
The fan proudly bears an "AMD Thunderbird" sticker. The sticker's in the same style as the real AMD Athlon and Duron processor logos, but it's a total knockoff. AMD don't put processor core code names on their logos.
This cooler's clip works in an ordinary enough way, but the cooler's bizarre design means it's a three-part design with a floating ring around the circular fin array. It's a bit stiff, but not a real nightmare to attach.
In the actual performance department, the "COOC" cooler doesn't work as well as its zooty looks suggest. With its quiet stock fan labouring to jam some air between its close-set fins, it turned in a crummy 0.88°C/W result, which puts it behind pretty much any half-decent aluminium cooler you care to name.
To see if the fan power was the problem, I unscrewed the stock fan and replaced it with a 7000RPM Y.S. Tech unit. Now the "COOC" made a big obnoxious noise, and managed 0.69°C/W. Which is not an awful score, but isn't worth paying big bucks for, and certainly isn't nearly as good as a copper cooler should manage.
In stock form, this spiffy-looking cooler is all sizzle and no steak. With a really loud after-market fan on it, it still isn't anything special. If you don't actually need much cooling but want to make a style statement to anybody who looks through your Plexiglass case window, this is a fine product. Otherwise, steer clear.
This is a cheap ($AU22 delivered) mid-range cooler, seen in various quality Socket A clone PCs. It used to come with a round-surround fan, and looked like this...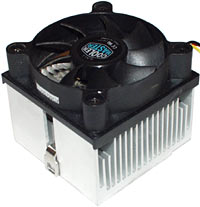 ...but now it comes with a somewhat beefier square-surround fan, and looks like this: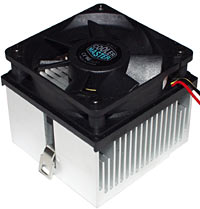 I tested both versions.
The old round-surround version managed 0.86°C/W; the square one did 0.82°C/W. That's a pretty unexciting result, but not at all bad for a cooler this cheap, and more than good enough for non-overclocked CPUs a bit off the current cutting edge. Any non-overclocked Socket A chip running at or below 1GHz should be fine with one of these coolers. And you can't complain about the price.
Cooler Master DP5-6I31C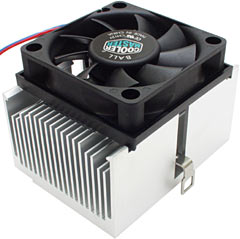 The DP5-6I31C is another of Cooler Master's hard-to-tell-apart mass market coolers. Its name, in case you're wondering, would be "dp5-6i31c", if it were in lower case. Cooler Master keep making products whose names contain both the digit one and an upper case "i", with the result that half of their resellers get the name wrong.
Anyway, this cooler only costs $AU35.20 delivered from Aus PC Market, as I write this. So it's not far above the real bargain basement category.
The DP5-6I31C's slim fan turns at 5400RPM, giving it more power than many low profile air-shifters can manage, but it's still not terribly loud. The clip is a one-hole screwdriver-attach unit that works OK. The all-aluminium heat sink has an 80-by-60 footprint, so it'll fit on practically any motherboard. And it scored an unexciting 0.74°C/W.
This cooler's rated for use with Athlons up to 1.4GHz (or Athlon XPs up to the 1900+, 1600MHz rating; Athlon XPs run cooler than the old Thunderbird Athlons), and for Socket 370 processors up to 1.2GHz. With half-decent case ventilation, and the CPU running at stock voltage, it'll be fine for that.
Thrilling this cooler ain't, but it gets the job done, and it's not expensive. Most people don't need anything fancier than this.
Cooler Master DP5-7H53F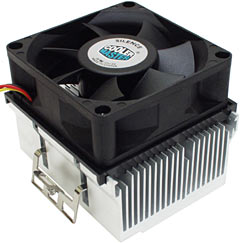 Cooler Master seem to be targeting the silent-computing crowd with this one. The DP5-7H53F on the Cooler Master site has a slimline fan, but the the one I got for review has a normal height unit. The fan's 70mm square, and it's very quiet. It's got a better than two watt nominal rating, though, so it's not completely weedy. It blows onto a solid aluminium heat sink, with unremarkable extruded fins. The heat sink footprint is 80 by 60mm, so it should fit most motherboards.
There's grey thermal grease pre-applied on the bottom of this cooler, and it's got a solid three-hook clip that's quite easy to attach, though you'll probably need to use a screwdriver to do it.
With a 0.71°C/W result, this cooler isn't going to excite the overclockers. But its fan is very pleasingly quiet and should last a long time, so the DP5-7H53F ought to be a fine choice for any medium performance computer. Especially if you want the PC to be seen and not heard.
A generously proportioned aluminium heat sink, a medium-profile fan of no particular distinction, and an OK screwdriver-hook clip. For $AU35.20 delivered, this is quite a lot of metal for your money, with the 60-by-80mm form factor that means it won't fit on some motherboards, but is fine for most.
But it delivers only 0.79°C/W performance. It could be a decent candidate for a fan upgrade...
Cooler Master EP5-6ID2
...and it took Cooler Master a while to do it, but they eventually did beef up the standard fan, and sell the result as the 6ID2.
Nobody spent ten years designing this cooler, but that doesn't mean it's bad. It's just got no street cred to speak of.
Air's now blown down onto the sink by a quite seriously noisy 7500RPM 60mm fan, so this isn't a cooler for the silent-computing crowd. But it's easy to install, with a new big easy-to-grab tab on the side of the clip, and the price is right, too; Aus PC Market are selling this cooler for $AU38.50 delivered, as I write this.
The monster fan pushes the EP5-6ID2 to a 0.62°C/W score, which is quite respectable for a pretty cheap all-aluminium cooler. It's not breaking any records, but it's a workmanlike, well-priced unit which any overclocker who doesn't care about fan noise should consider.
Cooler Master HCC-002
If the HHC-001 (below) is a bit too out-there for your taste, how about the HCC-002?
No heat pipes this time - just a normal shrouded copper heat sink, with fins brazed into the base plate, and a noisy 6800RPM fan.
This cooler's solid copper base is smooth and flat; it doesn't have a mirror finish, but it wouldn't take much work to polish it up.
The HCC-002 has a 60 by 60mm footprint and so should fit on any Socket A or 370 board; it's not as tall as the HHC-001, so there shouldn't be any clearance issues in normal PC cases. The HCC-002's got the same hinged, hand-attach clip as the HHC-001, and it's just as easy to hook on. It still only attaches to the middle hook on each side of the socket, but the HCC-002 is lighter than the HHC-001, so it shouldn't be a problem unless you treat your computer rather roughly.
The HCC-002 I got for review had some fins bent together; I straightened them before testing, by pushing a precision-engineered butter knife through the heat sink.
What'd the HCC-002 score? A perfectly respectable 0.58°C/W, that's what. The same as the HHC-001, and up there with the other tweaky noisy coolers.
If you feel the need to pose, the HHC-001 wins. But the HCC-002 seems to work just as well, and should be both cheaper and easier to fit into the rest of your PC. Not bad at all.
Cooler Master HHC-001
This cooler looks weird.
The reason it looks weird is to address one of the basic problems with tall, thin heat sink fins - the taller the fin gets, the less benefit you get from each extra millimetre of metal.
Take a heat sink with 10mm fins and make them 20mm high and you'll get a substantial performance increase, all other things being equal - it won't work twice as well, but it'll be quite a lot better.
But the improvement from going from 20mm to 40mm fins will be a lot smaller than the 10-to-20mm improvement. The returns, as they say, diminish.
If you want to make a heat sink with large surface area, you can make it from copper to get higher thermal conductivity, and you can make the fins thin to get more surface area, but if you also make the fins tall then you've got to deal with the fact that the total thermal resistance from the base of the sink to the top of any given thin copper fin is going to be high.
Unless you give the heat a shorter path to the top of the sink.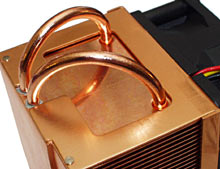 That's what Cooler Master's HHC-001 does. That funny looking exhaust manifold sticking out of the side of the cooler is a pair of heat pipes, which are buried inside the substantial copper base plate, and curve around the side of the cooler to penetrate all of the fins near the top.
Your classic heat pipe is a sealed hollow tube with low-boiling-point liquid inside it, and a tubular wick around the outside. The fluid boils at the hot end of the pipe, the hot vapour travels to the cold end (taking the heat with it) and condenses (liberating the heat), and then the wick brings the fluid back to the hot end. Heat pipes are a lot better at moving thermal energy than a solid lump of copper.
The HHC-001's two pipes only stick out of one side of the cooler; on the other side they terminate in these simple caps. If its height isn't a problem (this cooler's about 80mm high), then you should be able to mount it pretty much anywhere a normal cooler will go. The heat sink body's about 60 by 63mm, but the heat pipes are, at their most protrusive points, about 87mm wide.
This cooler's got the same clip as the EP5-6ID2 reviewed above. The all-copper HHC's substantially heavier, though, so you'd want to be careful about moving your computer around with it dangling from just the middle tabs of the CPU socket. But it'll be fine in normal use, and it's easy to attach.
The HHC-001 also has an imposingly noisy fan, just like the 6ID2.
From all this fanciness, you'd expect a solid performance figure for this cooler, and at 0.58°C/W the HHC-001 does very well. Given the fuzziness of the test gear, I think I can safely say that this cooler's up there with the best I've tested.
I think this cooler might do even better if it had a flatter base. The bottom of the heat sink's very smooth, but it's slightly curved; people with the patience to lap their CPU cooler will probably be able to get a little more performance out of the HHC-001.
Even without any lapping, though, this is a great looking cooler with top-flight performance. Its heat pipes don't really seem to give it any great advantage over other similarly weighty copper coolers, but they don't hurt, and they sure look flash.
Cooler Master SP5-6G31C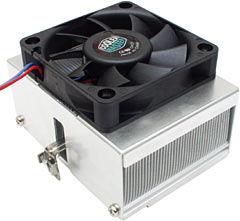 Skived fins on an all-aluminium heat sink are the most interesting thing about this 80 by 60mm cooler, which has a low profile, medium power 60mm fan, and a simple one-piece one-hole screwdriver-attach clip.
The SP5-6G31C is easy enough to attach, it doesn't make a particularly obnoxious amount of noise, it comes with pink thermal gum pre-applied to the bottom of the heat sink, and it ought to be pretty cheap. And it scored a perfectly respectable 0.63°C/W. That makes it a medium performance cooler, suitable for mild overclocking of slower CPUs and for pretty much any non-overclocked Socket A CPU you care to name, assuming half-decent case ventilation.
This is a perfectly workmanlike product from Cooler Master. It breaks no new ground, but it gets the job done.
---
P4 coolers | Water cooling gear | Chipset coolers
---
Buy coolers!
Readers from Australia or New Zealand can purchase many of the coolers in this comparison, and the Y.S. Tech and Sunon fans, from Aus PC Market.
Click here!
(if you're NOT from Australia or New Zealand, Aus PC Market won't deliver to you. If you're in the USA, try a price search at DealTime!)
---
3A Cooler heat sink kindly provided by 3A Cooler.
Aerocool coolers kindly provided by Aerocool.
Alpha coolers kindly provided by Alpha.
Alpha PAL8045 with variable speed fan kindly provided by Microplex Norge.
Bitspower coolers kindly provided by Bitspower.
Cho-Liang coolers kindly provided by Cho-Liang.
Cooler Master coolers kindly provided by Rectron.
Coolink coolers kindly provided by PC Range.
Glacial Tech coolers kindly provided by Glacial Tech.
Ideal Elethermal coolers kindly provided by Ideal Elethermal.
Kanie Hedgehog and Tiger Cooler kindly provided by Cool PC CPU Cooling Australia (which doesn't sell the Hedgehog any more).
OCZ coolers kindly provided by OCZ, who sell them.
Power Cooler products kindly provided by Power Cooler.
Sibak Tech coolers kindly provided by Sibak.
Spire coolers kindly provided by Spire and Lownoise PC.
Swiftech MCX370-OA kindly provided by Swiftech.
Thermal Integration cooler kindly provided by Thermal Integration.
Thermalright coolers kindly provided by Thermalright.
Themaltake coolers kindly provided by Thermaltake.
TS Heatronics Zen CPU Radiator kindly provided by TS Heatronics.
Vantec coolers kindly provided by Vantec USA.
Zalman coolers kindly provided by Zalman Tech and Quiet Computer Systems.
Fan Expander kindly provided by HighSpeed PC, who sell them.