CPU coolers compared, page 3
Review date: 26 May 2001.
Last modified 03-Dec-2011.
Coolink Twin Breeze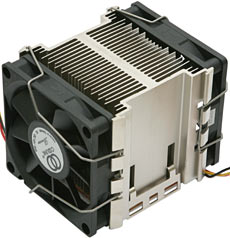 Coolink's Twin Breeze is an unusual looking cooler, but not a unique one. It's got a low profile 70mm fan at each end of a heat sink with a vertical central wall; fins stick out of the wall on either side. Basically, it's two normal fan-on-top heat sinks turned sideways and grafted together...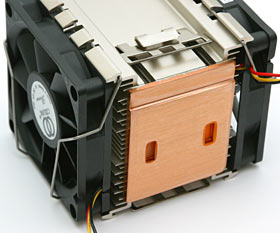 ...with a copper slab soldered onto the bottom.
The two rectangular dents in the bottom of the slab don't interfere with the CPU contact patch in the middle; they're punched-in blocks that engage the retention-clip slots in the heat sink, to help hold the base in place. The Twin Breeze's base is respectably flat, and its three-point clip is both firm and easy to use.
This sort of cooler layout is a very good one, assuming you can fit it onto your motherboard. The Twin Breeze is a big sucker; 75mm high, 90mm end to end, and 76mm wide at its widest point. It'll fit on most Socket A motherboards, but not all.
The last CPU cooler I saw that used this layout was the 60mm-fanned Microplex Silent Twin, which uses another Coolink heat sink - the H1. The Silent Twin is a bit smaller than the Twin Breeze but nonetheless manages to get decent performance out of two very quiet fans. It moves into serious overclocking territory if you give it a bit more fan power.
The Twin Breeze's 70mm fans aren't as quiet as the Silent Twin's; the Breeze doesn't make a lot of noise, but it might be over the line for the quiet-computing crowd. Most people won't care about the noise, though; there are lots of unremarkable single-fan coolers that make more racket than this and don't even deliver particularly good performance.
The Twin Breeze, in contrast, gives you 0.62°C/W with its stock fans. That's not incredible, but it's enough for quite a lot of overclockers, and it's a very good result for a reasonably quiet cooler like this. With a couple of high power 70mm fans on it, the Twin Breeze would obviously be a serious overclocking contender - but full-height fans added to the ends of this cooler would make it very long, and quite likely to foul motherboard components.
Note that this cooler has two three-pin plugs for its two fans, and doesn't come with a power adapter to let you connect either of them to an ordinary PSU four-pin connector. This isn't a problem if you've got another unused fan header on your motherboard as well as the standard CPU one, but otherwise you'll have to buy an adapter with the cooler.
Here in Australia, PC Range sell the Twin Breeze for $AU39, plus $AU8 for Australian shipping. Which isn't a lot to pay for solid performance without a lot of noise.
Evercool's CUD-725 is a super-shiny all-copper cooler with an inch-high 70mm medium power fan, whose nominal power rating is 3.96 watts.
Of the above specifications, the "super-shiny" one is most important. This whole cooler has a bright polished copper plating - even the clip has it. The clip isn't made of copper, of course, but the heat sink and its soldered fins are.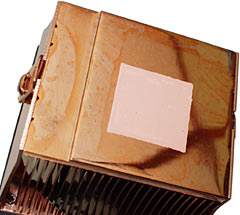 The base of the CUD-725 has the same mirror shine as the rest of the thing, and a pre-applied square of thermal gum. The markings on the surface in the above picture wiped off easily when I removed the standard thermal gum for the test. I do all tests with thermal grease, to even out the results.
The base isn't mirror-flat, though; you'll need to lap it if you want a really dead-on thermal contact.
The CUD-725's clip is a screwdriver-attach single-hole unit that's a little fiddly to attach - the screwdriver pouch wants a thin-bladed driver - but works well enough. As with all single-hole clips on heavy all-copper coolers, though, you'll want to be careful moving the computer lest havoc result.
With 0.59°C/W performance, this cooler doesn't break records, but it performs quite well enough. The fan isn't horribly loud, either. This cooler should also be quite cheap, for a copper-sink model.
If you want more reflective things in your computer case, a CUD-725 could be the cooler for you.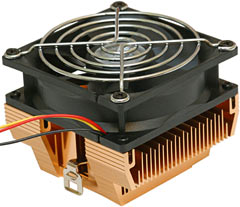 Do you want a spiffy copper CPU cooler?
Hey, who doesn't?
Do you not really need one, though?
Most people don't, you know.
Evercool give you the best of both worlds with their D5C-825. It's a groovy looking coppery coloured cooler, but it's actually made out of anodised aluminium. It's topped with a medium power 80mm fan with a finger guard, it's got thermal goop pre-applied on the bottom, it uses a not-too-bad one piece single-hook screwdriver-attach clip, and it's cheap. Aus PC Market are selling it as the "D85" for a mere $AU24.20 delivered, with catalogue number CS-EVD85. Australian buyers can click here to go to the Aus PC site.
Should you buy a D5C-825? Well, not if you want a high performance CPU cooler. This thing looks the business, but it only scored 0.68°C/W.
That's not an awful score, though. And the D5C-825 looks good, has a reasonably quiet fan, and sure is cheap. If you're not a rabid overclocker, this cooler will suit you just fine.
Straight from a Hong Kong street market to you, comes this fine product from that highly esteemed manufacturer... uh...
OK, I don't know who makes this thing. It says "FYH" on the fan sticker. That's the brand of the fan, not the brand of the cooler, but until I find out what the actual manufacturer is (anybody know?), that's what I'll call it.
The heat sink looks the same as the one used in the AVGS CA 1000 and CA 1050 coolers (the CA1000 is reviewed on AcidHardware here), but the FYH fan is smaller than the one AVGS straps on.
The heat sink has a copper base, and a Global Win-style clip (which is not really a good thing - see the FOP38 section to see why...).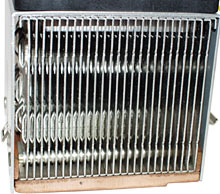 There's an epic number of thin aluminium fins bonded to the base, and blown on by the unremarkable 60mm fan. A couple of rivet-ended pegs keep it all together; thin-fin heat sinks can be fragile, but this one isn't.
The heat sink is slightly too tall to be a cube; this is a pretty impressively large cooler. So I expected decent performance out of it. And I got it.
With the pretty quiet stock fan this cooler scored a perfectly creditable 0.70°C/W. When I swapped out the stock fan for a 7000RPM Y.S. Tech unit - which is taller than the stock one, so you need longer screws to hold it down - performance improved to 0.62°C/W.
That's not as good as the results from the all-copper coolers in this comparison, but it's still good. And the stock performance is excellent, considering the low noise level.
So if you see one of these coolers for cheap, grab it. The clip's not too bad, the stock performance is better than OK, and it does well if you hop it up with a better fan, too.
I just wish I had a proper name for it.
Another Asian mystery-cooler. This one's got "Galaxy" on the box, so that's what I'll call it.
It's lifted above the ranks of the usual yum cha coolers by its hefty medium-profile all-copper heat sink. It's an unremarkable design - ordinary flat thin pins with a quiet low power fan on top. And there's another one of those trademarks-are-ours-to-play-with "AMD Thunderbird" stickers on the fan, like the one on the "COOC" cooler.
The Galaxy heat sink isn't very well made - the fins are of uneven width, and one of the inner fins either snapped off half way, or was that way right out of the mould. But quantity seems to be more important than quality in copper heat sinks, and there's a decent amount of both copper and fin surface area here.
This cooler's clip is taut, but not very hard to apply. It has the usual screwdriver-application hooked-end design, but it's symmetrical - both ends of the clip have hooks, so you can attach either end first and still be able to screwdriver-push the other one on. And the heat sink may be questionably made, but the clip is springy and solid.
The Galaxy performs quite well, as is normal for pedestrian all-copper designs. It managed 0.70°C/W with its quiet stock fan. That's very good performance, considering the standard fan's modest air-moving power.
The fan's held onto the heat sink with wire clips, not screws, so there's no quick way to attach a thicker, higher performance model. It'd be worth rigging up some taller clips, though; when I unclipped the stock fan and just sat my 7.2 watt Y.S. Tech fan on the Galaxy heat sink, the cooler's performance improved to 0.56°C/W, which is as good as any cooler in this comparison.
The cheaply made heat sink this cooler uses didn't make it a super-cheap product. Even in a Hong Kong street market - where a new Lexus is about ten bucks fifty US - it sold for $HK170. Which, as I write this, is $AU41, or $US22. No way could any Australian or US dealers sell it that cheaply (they have, like, premises to pay for), which means it'd end up costing much more than a hopped-up ThermoEngine or an OCZ Gladiator.
If you do manage to find one cheap, though, buy it.
Looks dodgy, works well.
Glacial Tech Igloo 2300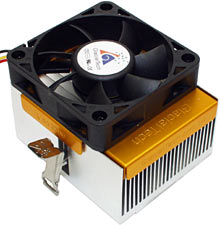 Glacial Tech, who make the other Igloo coolers that I mention on the P4 cooler page, aren't aiming this cooler at the overclocking market. It's meant to be a medium-performance, lightweight unit with a nice quiet fan. And it is.
The Igloo 2300's fan is offset on one end of its heat sink, with an anodised air-guide covering the rest of the fins to make the most of the air flow it's got. The all-aluminium heat sink's a straightforward design, but it's quite large and cleanly manufactured.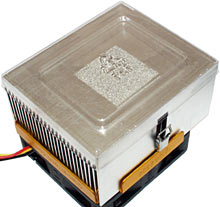 The bases of all of the Glacial Tech coolers, including the P4 models, come with a plastic cap that covers a square of pre-applied thermal goop.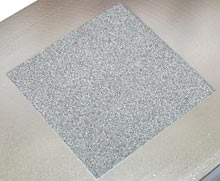 It looks like cloth, but it's actually just rough-textured silver thermal grease. Only the most extreme overclockers need bother with anything else, at least the first time they attach the cooler to a CPU.
The Igloo 2300 has a rather tight, but not too hard-to-attach spring clip, with a thumb-press tab on one end. The little fan's nice and quiet, but this cooler still delivered a perfectly all right 0.78°C/W score. Far from a world-beating result, but this cooler still looks like a decent choice for less demanding applications. It's up there with the old-style small-fan ThermoEngine; there's nothing wrong with that sort of score.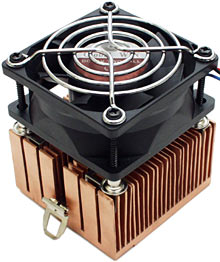 Now that's what I'm talking about.
Big-ass (you don't mind if I say "big-ass", do you?) copper heat sink, loud 6800RPM high power 60mm fan, finger guard, mildly annoying Global Win clip.
Oh well. Can't win 'em all.
Global Win's CAK38 is not what you'd call a massive innovation in CPU cooler design, but it doesn't need to be. It's just a simple recipe followed correctly, down to the somewhat industrial looking but effective enough spacers between the fan and the heat sink, there to reduce turbulence. The heat sink is a cast unit which isn't fantastically well made - there are considerably variations in pin thickness. But that doesn't matter as long as the base is nice and flat, and it is.
A simple recipe, but not a cheap one. The CAK38 was $AU88 delivered from Aus PC Market when I first reviewed it - and the version that's out now (see below) costs even more. Even at $AU88, the thing was twice the price of a FOP38.
For your money, though, you get a cooler that clocks in at 0.56°C/W, about as good as anything else in this comparison. And if people don't look too closely at the pin widths, it passes muster in the show-off department as well.
The CAK38 could stand to be cheaper, but you get serious performance for your money.
Global Win CAK38 - new model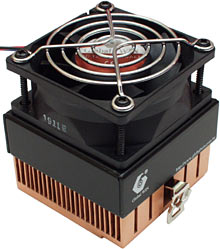 Same again, please!
Well, almost the same.
The CAK38's had a mild facelift. It's still got the same heat sink, but now it's sprouted a black plastic air-guiding shroud, and a new clip.
The shroud's a good thing; the original CAK38's airflow is plentiful, but not particularly well focussed.
The clip, not so much.
Global Win's hinged clips may have been a leading cause of people using up their profanity allowance in the past, and this new single-piece clip is better, but it's still flawed. It's a screwdriver-attach unit, but the bent-out tab into which you stick the blade of the driver is smoothly curved, with nowhere for the tip of the driver to lodge when it's inserted. This means that when you tilt the driver back to bend the clip's end out over the tab on the CPU socket, the driver will slip up on the tab, and you won't be able to bend the clip far enough.
It's not a crippling problem, but getting around it requires the use of considerably more downforce than I'd like to employ on a real CPU.
Maybe this problem only affects the clip on the cooler I got for review - but given Global Win's past sanguine attitude towards the shortcomings of their retention mechanism, I'm not so sure.
Oh well. At least this clip doesn't go ping and fire a little bit of itself across the room if you pinch it the wrong way.
In the performance department, there doesn't seem to be anything between the new and old CAK38. It's still a good, solid 0.56°C/W cooler, and it still blooming well sounds like one too.
Now, though, the CAK38 costs an impressive $AU99 delivered from Aus PC Market. Which is, indubitably, very much on the steep side. You can pay more for a cooler, but generally only for serious bolt-mount exotics, or bizarre Japanese mutant-coolers.
Still, compared with the price of a high-spec PC, a hundred Aussie bucks ain't that much. If you don't mind the noise, and feel up to the task of doing battle with a less than totally felicitous clip, the updated CAK38's not a bad thing.
The FOP38 is something of an overclockers' favourite. It's a perfect example of the Keep It Simple, Stupid school of CPU cooler design. Make a good-sized plain aluminium heat sink. Stick a frickin' high power fan on it. Put in box and sell.
The frickin' high power fan, in this case, is a 7000RPM screamer which passes the Self-Propulsion Test - if you put one of these fans on a smooth desk and turn it on, it won't stay in one place unless you chock it with something.
7000RPM fans, of course, aren't quiet. This CPU cooler by itself makes more noise than most PCs, and it's not the low hum of most fans; the high rotational speed and the six blades gives a rougly 700Hz whine. Which is approximately the F above the C above middle C, if you're a musical type.
The only thing that annoys me about the FOP38 - and various other Global Win coolers - is the clip. It's a two-part design with a loosely hinged clip-on end piece, and the design doesn't hold the end piece as well as it should. With practice you can get the hang of swinging the clip-end down and on easily enough, with the assistance of a screwdriver or similar pressure-applying device.
But if your chosen attachment style turns out to pinch the slotted spring body together and thus release the end piece, bad things can happen. Gouged motherboard, end piece pinging off to parts unknown, use of profanity.
If you get one of these coolers, sit it on a disposable surface and play with the clip for a couple of minutes until you understand how it behaves. You don't want to learn about it by shoving a screwdriver through your motherboard.
If you don't like loud computers, you won't like any CPU cooler with a 7000RPM fan on it. But if you like cool CPUs, you will like the FOP38; it managed an impressive 0.61°C/W in my test.
Aus PC Market sell the FOP38 for $AU44 delivered, which is quite reasonable for the performance it delivers.
The FOP32-1 is the exact same cooler as the FOP38, only with a lower speed, quieter, more normal fan - and no finger guard, because like most 60mm fans, this one will at worst bruise your finger, not tear half of your fingernail off and blind you with it.
At $AU41.80 delivered, this still isn't a cheap cooler, but it's got decent performance; 0.70°C/W in my test. A worthy candidate for the overclocker who can't stand the noise of a 7000RPM fan.
More of the same, only better. Well, that's the theory, anyway. The same howlin' high speed fan, now mounted on a chunkier heat sink with fin profiling that increases the air flow. The same annoying clip. And, at $AU53.90 delivered, this is the most expensive all-aluminium cooler in this comparison.
But it doesn't work as well as the FOP38.
I don't know why, exactly. Making a heat sink twice as big doesn't make it twice as effective unless the contact point with the heat source is enlarged as well, but you'd think all of that extra fin area would do something. When I tested it, though - and the WBK38 and FOP38 both got tested on my original ill-fated converted slotket and on the steel socket - the bigger cooler lost by a small margin every time. 0.64°C/W; a decent figure, but it should be better.
That huge heat sink overhangs the sides of the CPU socket, so the WBK38 won't fit on motherboards with capacitors right next to the processor. Given the choice, I'd definitely take the FOP38.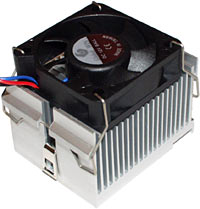 A baby from the Global Win range, this one's got a low-ish power fan and a smaller heat sink than its bigger relatives, and only costs $AU30.80 delivered. It's got the same annoying clip, though, and only has 0.80°C/W performance. Up there with a Thermaltake Golden or Chrome Orb (see below), and a little cheaper.
Ideal Elethermal CBCF-AMD-1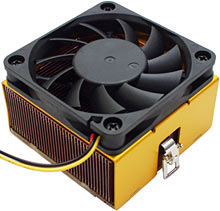 I'm guessing that this Ideal Elethermal cooler is a CBCF-AMD-1, but it could be a CBCF-AMD-2.
Both coolers use the same all-copper medium-height thin-fin side-shrouded heat sink. Both have the same perfectly acceptable screwdriver-attach clip. Both have a low profile 60mm fan. Both are made by Ideal Elethermal, who are probably about to e-mail me and tell me which one this is.
The only difference between the CBCF-AMD-1 and the CBCF-AMD-2 is that the -1 has a 4800RPM fan, and the -2 has a 5300RPM one. When I plugged this cooler into a motherboard it reported 4900 to 5000RPM from 12 volts, so it's probably the -1, but maybe it's a -2 with a lazy fan.
Whatever it is, it does a decent job, for a cooler with a pretty quiet low profile fan. It turned in a 0.67°C/W result, which isn't in loony-overclocker territory but which should be perfectly adequate for this cooler's stated target processors - Athlons up to 1.5GHz, and P-IIIs up to pretty much whatever you want.
Ideal Elethermal CBCF-AMD-3
OK, this one I can easily identify. This one's the daddy bear of the three CBCF-AMD coolers, and again, the only difference is the fan. Now, it's a 7000RPM high-racket full-height unit that moves a lot more air over the all-copper heat sink, and the result's a 0.63°C/W performance score. Not quite up there with the bigger copper noisy-coolers, but a creditable result just the same. If you don't mind the racket, this'll do.
The P-925's a cheapie cooler ($AU24.20 delivered) that looks tasty enough, thanks to its blue anodised, step-sided heat sink. It comes standard with a hefty blob of white thermal grease under a clear plastic cover on its base; I replaced that with a thinner smear before testing it.
The low profile fan on the P-925 only has a 0.84 watt rating; on the plus side, that means it's whisper quiet. On the minus side, that means it doesn't move much air. And the P-925's performance is, unsurprisingly, low; it managed only 0.94°C/W.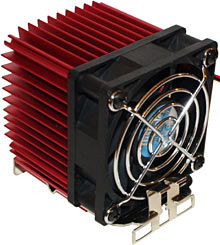 This show-off red-anodised gadget is, I presume, Just Cooler's apology for making the P-5500, which I curse about lower down this page. It's got the same "laydown" design, and a similar clip (which is not a good thing...), but apart from that, it's quite different.
The all-aluminium heat sink has a central block with radiating fins, and the fan screw holes are part of the extrusion. Which means that fans can be mounted to either end, or both.
The stock fan's a 60mm unit that's halfway between slimline and full height in size, and it makes enough noise to disqualify the P-1000 as a really quiet cooler.
The clip is a two-piece hinged unit, which somehow manages to be just as processor-smashingly tight as the P-5500's clip, and just as difficult to handle. The hinge end of the clip's at the fan end of the cooler, unless you shuffle things around. That fact doesn't help.
After wrestling the P-1000 onto my test jig, I was rewarded with a very unexciting result. 0.87°C/W.
So it looks groovy, but it can't beat a $AU22 Cooler Master with a slimmer fan. All of that clip tension doesn't seem to do any good at all.
With an initial result that bad, I didn't bother fooling around with other fans. With one or two super-high-power fans, the P-1000 might beat the stock-fan performance of better, more conventional looking, coolers. But a fat lot of good that'll do you if your CPU's just been squished.
I don't have pricing for the P-1000 yet. Pretty much whatever it costs, it's not worth it.
I didn't know what the model number for this cooler was when I got it to play with; a reader informs me that it's the "P-8000", selling for something like $US20. It's been a while now, but it still isn't widely distributed outside Taiwan and environs.
If the base of this cooler looks a bit small compared with the fan, that's because the fan's an 80mm unit - an ordinary low power case cooling fan, by default. It blows on a red-anodised all-aluminium heat sink that wouldn't be very remarkable if it didn't flare out so big at the top. If you want a cooler that Looks Serious, this is a good choice.
The clip's a pretty straightforward single-piece unit, with odd useless little tags out the side that engage the outer hooks on the socket - if there are any - but aren't nearly strong enough to do any real good. The heat sink's got a step-side design that ought to let you install this cooler, despite its size, on pretty much any motherboard.
With the stock fan, this cooler managed an uninspiring, but not awful, 0.78°C/W. It's dead easy to swap the standard low power Just Cooler fan for any other standard 80mm unit, though. With a 4.3 watt Sunon fan in place of the standard one, it managed a more pleasing 0.70°C/W.
That's not as great as you might expect, given the big fan. But Just Cooler products tend to be cheap and cheerful, and since this sells for little more than the price of a basic low performance cooler, it's an OK deal for people who don't need monster performance. The stock fan's fairly quiet, and any other 80mm fan won't scream nearly as loudly as a 60mm unit with the same air flow. The lower rotational speed also keeps fan bearings alive for longer. So the P-8000's a decent option for anybody trying to silence their PC on the cheap.
Maybe P-5500 is the model number for this cooler. I've only seen it sold as the P-5500, but it might be meant to be called the "RD-100C". That's what it's called on this masterful page on the Taiwanese Just Cooler Site. Except for the blue anodising, it also looks just like the Spring Spread SBCT601CAF-1B, two not-very-informative PDF documents about which can be downloaded here and here.
Whatever its name is, it certainly looks the part, doesn't it?
It's a weighty little cooler, because inside its blue-anodised extruded aluminium shell, there's a copper pylon and a plethora of super-thin copper fins.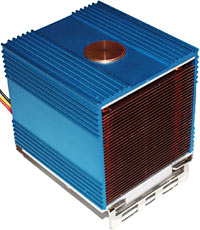 The pylon sticks out of the bottom of the shell, giving the CPU a copper circle for, Just Cooler no doubt hope, better thermal transfer. Air's fed through the cooler by a low-profile high-speed 50mm fan at one end, which isn't particularly loud, but has the distinctive high whine of a fast fan nonetheless.
Unfortunately, the P-5500 (or whatever) is all show and no go. It turned in a thoroughly unexciting 0.73°C/W when I first tested it on the cut-up slotket.
When I tried to install it on the steel socket setup, the clip broke.
Given the average difference in performance between the two setups - the steel socket gave consistently higher thermal resistance readings than the too-tight slotket had - I reckon it probably would have achieved around 0.8°C/W, if it hadn't broken.
That's not absolute garbage, but it's far from the performance you'd expect from a funkalicious-looking copper-finned exotic like this.
Even if it were a brilliantly efficient cooler, you wouldn't want this thing. That clip broke because it's tight enough to win my Giant Nasty Mallet Smashing Your CPU To Little Bits Award for this month. It's got very little give in it, and was rather challenging to attach. I needed to use a G-clamp to compress it enough that I could remove it from the slotket again.
This thing can and will destroy CPUs, especially Socket A ones; using a shim may help, but I wouldn't bet on it.
The retail price for this cooler is apparently about $US39, on par for other zooty copper coolers, although this store appears to be aware of the quality of the product and has 'em reduced to $US19.95.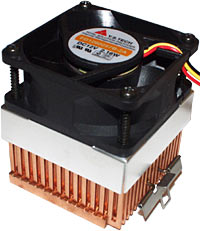 The Hedgehog's an all-copper Alpha-style cooler, with the same clip as the Alphas, the same shroud, very zooty looks, but no great performance advantage.
Why? Well, probably because it's got a grooved base that really needs to be lapped flat to get a good thermal contact. Without any lapping, the Hedgehog scored 0.7°C/W.
I got this Hedgehog from Cool PC, and it cost $AU79 plus shipping at the time. They don't stock them any more, probably because Alphas seem just as good.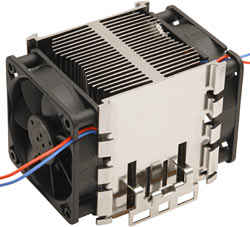 They do things differently in Norway.
Microplex Norge AS sell a lot of cooling-related gear, much of it slanted towards keeping your PC quiet. The Silent Twin is their first own-brand CPU cooler. It's aimed at the silent-computing crowd, but it's of interest to other users, too.
In Norway, the Silent Twin sells for 395 Norwegian kroner, which is a hair more than $US52 as I write this. Buyers from outside Norway won't have to pay the 24% VAT, though, so they can get it for only 318 kroner. There's no easy way for people who don't speak (or at least read) Norwegian to buy the Silent Twin yet, but I'm assured that an English-language option will be along Real Soon Now.
The Silent Twin I got was a prototype, with its two low power, low noise 60mm Papst fans held in place by nothing but a friction fit to the sides of the shiny-plated vertical-core solid copper heat sink. This works, but it's quite easy to bump the fans loose; the retail Silent Twins have wire clips for the fans.
The Silent Twin uses a simple three-hole one piece clip that's quite easy to attach. It's a quite weighty cooler and so would be a mildly alarming prospect if it only had a single-hole clip, but the one it's got should be fine if you don't kick your computer around.
With the standard Papst fans set up to blow air into the heat sink from each side, this genuinely is a very quiet cooler. It's not quite silent, but it's near enough to it that, inside a case, it really might as well be. Nonetheless, it manages 0.69°C/W performance, which is up there with a lot of far louder coolers.
This isn't enough cooling power that nutty overclockers are going to be interested, but it should be perfectly adequate for any Socket A CPU at stock speed, assuming half-decent case ventilation.
You can thank the Silent Twin's unusual design for its performance. The solid central heat-path pillar supports short fins for each fan to blow on, so all of the fin area has a reasonably low resistance thermal path to the cooler's base - which is, of course, copper.
Next, I tried sticking a couple of medium power 60mm fans on the Silent Twin's heat sink, just to see what'd happen. I didn't have any matched sets handy, so one side got a two-watt fan and the other side got a three-watt one. This made the cooler far louder, but still a lot quieter than many single-screaming-fan units - and now it scored 0.54°C/W, which is very good indeed, and more than good enough for serious overclocking. This heat sink looks like being a winner at any power level.
With slimline fans, the Silent Twin ought to fit on pretty much all motherboards; 80-by-60mm coolers aligned the same way (long axis perpendicular to the retaining clip) are common, and they fit on almost everything. With fatter fans, fit could be more of an issue, but I doubt it. As long as you're not using super-tall Focussed Flow Delta monster-fans, you should be fine.
---
P4 coolers | Water cooling gear | Chipset coolers
---
Buy coolers!
Readers from Australia or New Zealand can purchase many of the coolers in this comparison, and the Y.S. Tech and Sunon fans, from Aus PC Market.
Click here!
(if you're NOT from Australia or New Zealand, Aus PC Market won't deliver to you. If you're in the USA, try a price search at DealTime!)
---
3A Cooler heat sink kindly provided by 3A Cooler.
Aerocool coolers kindly provided by Aerocool.
Alpha coolers kindly provided by Alpha.
Alpha PAL8045 with variable speed fan kindly provided by Microplex Norge.
Bitspower coolers kindly provided by Bitspower.
Cho-Liang coolers kindly provided by Cho-Liang.
Cooler Master coolers kindly provided by Rectron.
Coolink coolers kindly provided by PC Range.
Glacial Tech coolers kindly provided by Glacial Tech.
Ideal Elethermal coolers kindly provided by Ideal Elethermal.
Kanie Hedgehog and Tiger Cooler kindly provided by Cool PC CPU Cooling Australia (which doesn't sell the Hedgehog any more).
OCZ coolers kindly provided by OCZ, who sell them.
Power Cooler products kindly provided by Power Cooler.
Sibak Tech coolers kindly provided by Sibak.
Spire coolers kindly provided by Spire and Lownoise PC.
Swiftech MCX370-OA kindly provided by Swiftech.
Thermal Integration cooler kindly provided by Thermal Integration.
Thermalright coolers kindly provided by Thermalright.
Themaltake coolers kindly provided by Thermaltake.
TS Heatronics Zen CPU Radiator kindly provided by TS Heatronics.
Vantec coolers kindly provided by Vantec USA.
Zalman coolers kindly provided by Zalman Tech and Quiet Computer Systems.
Fan Expander kindly provided by HighSpeed PC, who sell them.