CPU coolers compared, page 5
Review date: 26 May 2001.
Last modified 03-Dec-2011.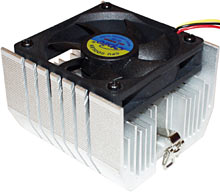 Spire give their coolers the kinds of names that Daleks give their children. Once you've wrapped your brain around its title, though, their 5E32B3 is a worthy enough unit. It's got an all-aluminium heat sink, lightly sculpted for better air flow, and a good retention mechanism. The clip's a quite strong one-piece design, with a neat folded-over end that makes a good pocket for a screwdriver. You're not likely to stab your motherboard while installing this cooler.
On the down side, the 5E32B3's fan is a low profile, low noise, low usefulness 4000RPM 60mm unit. If you want a CPU cooler you can barely hear from outside the computer case then this is the sort of fan you want on it, but you can do a lot better. Fortunately, the fan's standard sized, so you can easily remove it, grab some longer mounting screws, and install a not-much-louder full height fan. Or go all the way and stick a seven watt monster on, if you like.
You can't expect world-beating performance from an all-aluminium cooler with a small fan, and the 5E32B3 doesn't surprise; it turned in a 0.73°C/W score. Which is a long way from being rubbish, for a quiet cooler like this.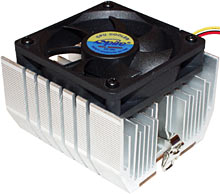 At a glance, the 5E34B3 looks pretty much like the 5E32B3, but it's actually quite different. The dinky stock fan's the same and so's the nice clip, but the heat sink is a bit taller, and has more fins...
...and there's a copper heat-spreader base, shown here with its stock thermal gum still in place, protected by its peel-off wrapper.
The base isn't machine-clamped in place, or shrink-fitted, or thermal-epoxied; there are instead a couple of screws that go through the bottom of the aluminium portion of the heat sink and into the copper. The space in between the copper and the aluminium's greased up with white thermal compound.
This bodes badly for the 5E34B3's performance, especially with its un-thrilling stock fan, and it indeed only just edges out its lower-surface-area all-aluminium cousin; it scored only 0.71°C/W. By way of experiment, I removed the stock fan and gave the cooler my YS Tech screamer instead; now it did 0.60°C/W, which isn't far off the performance of the best coolers in this comparison.
But, for a given air flow, there's no reason to suppose that the copper-based Spire will do very much better than the all-aluminium version. If the price is right, there's nothing wrong with this thing, as a quiet cooler with its stock fan.
Spire 5F271B1L3 FalconRock II
Spire have, to their credit, given this cooler an actual name, as well as a number. The FalconRock II is aimed at the silent computing market; its 1.08-watt-rated 80mm fan is whisper quiet. There's a regular FalconRock as well, which is a bit louder. They're much the same thing except for the fan.
Both FalconRock fans have cast aluminium frames. There's really not much point to this; it makes the fan part of the heat sink and so presumably helps cooling slightly, but adding stuff to the top of a heat sink does practically nothing for its effectiveness. Basically, the metal-framed fan is just there for looks. The fan impeller is plain old black plastic.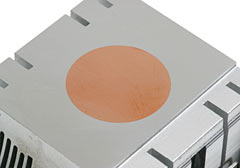 The base of the FalconRock's aluminium heat sink has a nice flat copper slug in it; out of the box, it comes with a square of white thermal grease pre-applied. I wiped the grease off for this picture.
The copper slug is inset into a triangular hillock in the base of the sink, which should considerably improve heat transfer to the middle fins, in particular.
The FalconRock clip is a straightforward three-hole one-piece screwdriver-attach unit, which works perfectly well.
You can't expect much from very quiet coolers, even ones with 80mm fans. So I was surprised to see the FalconRock II score 0.63°C/W. That's as good as some much, much louder coolers, and if your case ventilation's OK, it's should be good enough to run any Socket A or Socket 370 CPU at stock speed.
I was interested to see how well this unusually effective heat sink worked with a more powerful fan on it. I gave it a 5.4 watt Sunon 80mm, which is about as loud as most people are likely to be able to tolerate, but not a real howler. Now, the FalconRock II scored a downright excellent 0.52°C/W. That's in serious overclocking territory, and it's what I'd expect to see from a run-of-the-mill all-copper heat sink with the same fan. This thing's more effective than it has any right to be.
Pursuing the holy doctrine of More Power, I slapped a Delta FFB0812EHE, with a 16.2 watt nominal power rating, onto the unsuspecting heat sink. Now, it scored an outstanding 0.46°C/W. Only someone with a severe auditory handicap would be able to live with any Delta EHE fan in their PC, mind you.
So what we have here is a solid performer from any fan power level. The FalconRock II is an excellent choice if you want a quiet PC, and if you stick a quite modest normal case fan on it instead of its metal-framed stocker, it transforms into a proper overclockers' cooler. Highly recommended.
This FalconRock II came from Lownoise PC, here in Australia. They're selling it for $AU33, plus another $AU7.50 for shipping in NSW and the ACT, or $AU8.50 for shipping to other States.
At that price, it's a total bargain.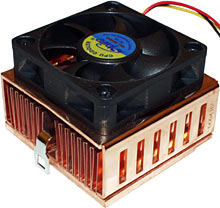 The 5P53B3 continues Spire's proud tradition of Immemorable Cooler Names, but at least this one looks unusual. It's an all-copper folded fin design - its fins are made out of a thin copper sheet, folded back and forth and bonded to the base wherever it touches. You don't get a ton of surface area that way, but you don't have to do any annoying copper forging, either, and the hollow folded fins presumably work a little better than solid ones the same size would.
It seems fairly obvious that this cooler's got a better heat sink than the aluminium-sinked Spires, and it's got the same nice clip, but for some reason it's got the lousiest fan. That's a very unassuming little 50mm unit perched on top of the shiny copper, there, and it's...
Well, it's quiet. Definitely quiet.
Doesn't work too well, though.
With the standard fan, the 5P53B3 managed a thoroughly unexciting 0.74°C/W. That's actually pretty good for a cooler with so little air flow, and it promised rather more with better fan power. So I stuck my high-power Y.S. Tech fan onto the heat sink (with blobs of stickum, because the mounting holes don't line up...). Now, the 5P53B3 scored 0.62°C/W. Which isn't quite as good as the copper-based aluminium 5E34B3, with the same fan.
Upgrading a 5P53B3 with a more powerful fan will require you to use a bead of silicone or similar goop to hold the fan on, if you don't want to drill new mounting holes. So it's not really worth doing.
Folded fins just aren't a great design, I'm afraid. If I had to make my own heat sink, folded fins are what I'd use, because I could whip up a sink like that in my workshop without having to learn to cast copper. But cast sinks can have more surface area per unit volume, and they work better.
The 5P53B3 isn't rubbish, and its perforated surround looks groovy. And I really like the clip that all of these Spire coolers use. But it's neither a great performer in stock trim, nor an easy upgrade candidate.
Spire SPA04B4 WhisperRock IV
Even quieter than the FalconRock II, and almost as good. And reviewed in detail here.
Swiftech's MCX370-OA looks, at a glance, like just another chunky solid-aluminium cooler. It's got a few nifty extra features, though...
...most of which you can see in this picture.
The MCX370's "helicoid" aluminium pin-fins have spiral grooves over most of their length, which increases their surface area.
The retaining clip is unusual, too. It has a neat two part spring-tensioned design. Each end of the clip is a separate small L-shaped piece of metal; there's no clip body in between, and so the heat sink doesn't need a pinless channel through it to accommodate one.
Each clip piece is pressed down by a screw onto a retaining spring, which makes it easy for you to hook the cooler onto your CPU socket. Once it's on, you loosen off the screws until they're no longer compressing the springs, and the clip is now firmly engaged.
This is an easy to use system that makes it impossible to over-tighten the clip. And, simultaneously, lets the heat sink have more pins on it.
The MCX370's built on a thick slab of aluminium, with a very flat base. Flatness freaks will not need to spend much, if any, time lapping this cooler.
On top of the MCX370 there's a 6850RPM Papst 612NHH fan. This fan may spin fast, but it's relatively low powered - Papst rate it at 2.9 watts, and I measured it drawing a bit more than 3W. It's remarkably quiet for its speed - a bit louder than the average 4000RPM-ish fan, but not a hair-dryer whine.
This fan's a two-wire model - it doesn't have a speed-reporting tachometer wire. The fan wires are bundled up in a protective jacket, and the fan itself is mechanically isolated from the heat sink with four rubber bushings. It's still screwed to the base of the heat sink, and a fair bit of vibration can be transferred through the screws, but the bushings do help to quiet things down further. This isn't a loud cooler at all.
What do all of the fancy features add up to?
Well, installing the MCX370 is pleasingly simple. Its novel clip design means it gets a good strong grip on the CPU socket without making you do anything alarming with little bits of spring steel.
And the thing works well, too. It managed a 0.58°C/W thermal resistance result, which is outstanding for an all-aluminium cooler, and particularly remarkable for one that doesn't make a totally obnoxious noise.
You can buy the MCX370-OA direct from Swiftech for $US45.95, which makes it fairly pricey, for a cooler with no copper in it. But it performs like a copper cooler; who cares what it's made of?
All things being equal, it's actually better to have an aluminium heat sink, because that means it'll be lighter and put less strain on the CPU socket in tower-case vertical mount situations. The MCX370-OA is apparently slightly over AMD's recommended cooler weight, but only by a few grams. Most super air coolers are a lot heavier.
So the MCX370 really isn't amazingly expensive, for what you get.
If you're looking for a high performance cooler that's not horribly loud and isn't a pain to attach, the MCX370-OA is an excellent choice.
The extra "C" in the name of this high-spec version of the MCX370 stands for Copper. This cooler's the same as the MCX370, except for its copper-slab base.
Swiftech's MCX-series coolers now have these wider clips attached to screw-and-spring retention mechanism. The new clips can engage all three retaining hooks on sockets that have them.
A three-hook retainer is a good idea for a cooler like the MCXC370, because the much heavier base brings the cooler's total weight up to a way-over-spec 595 grams (21 ounces), versus only 340 grams (12 ounces) for the MCX370. Swiftech recommend you remove the MCXC370 from the CPU if you're transporting your computer, lest Nasty Things happen in transit.
The MCXC370 comes with four little self-adhesive rubber dots, like the ones that are already attached to Socket A CPUs; if you're using this cooler with an FC-PGA Socket 370 CPU (any current P-III or Celeron, in other words), you're meant to stick the dots on it to give the thing some extra padding.
If you're not applying too much delta-V to your PC, the new wide clips should hold the MCXC in place OK, and they're as easy to attach as any retention mechanism I've ever seen. You just need a Philips head screwdriver; wind the clips down by tightening the screws to hook the cooler on, then loosen the screws off until the spring on each side is taking the full load of holding the cooler down, and you're done. And your motherboard remains un-gouged.
Apart from the base and the clips, the MCXC's the same as the MCX370 I check out above, and performs only a hair better. It took a few test runs to be sure that there was any difference at all, actually; the thickness of the bases on these coolers seems to give them pretty good conductivity whether they're made of aluminium or copper.
At 0.57°C/W, the MCXC370's up there with the best of the nutty overclockers' coolers, but it's a lot quieter than most of them. As I write this, Swiftech sell it on their site for $US48; the plain MCX370's $US10 cheaper. So these still aren't bargain-basement products, but they're well worth considering.
As I write this, this is Swiftech's best Socket A CPU cooler.
It's also the MCX423. That's their best Socket 423 P4 cooler.
And, wearing its MCX478 hat, this is also their best Socket 478 P4 cooler.
This is possible because the MCX-whatever heat sink can mount, with different hole-adapter kits, to all three kinds of board. They sent me an all-versions kit; you can read about the P4 MCX performance on the P4 coolers page here.
Without any extra hardware, the MCX heat sink fits on a Socket A board with the four standard holes around the CPU socket. The sink's a massive unit, weighing in at around 730 grams, or 26 ounces, with a fan. But if your motherboard has the holes, it'll probably have room for the heat sink as well; the MCX sink doesn't have an 80mm square footprint, like some other monster coolers. The thing actually conforms to AMD's clearance standards, so only motherboard manufacturers who break the rules should cause problems.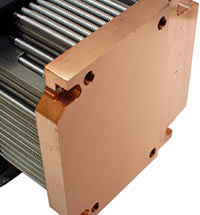 The base of the MCX heat sink is a giant slab of copper, into which is screwed a veritable bed of nails of spiral-surfaced aluminium pins.
The fan mounts onto a couple of steel brackets that are riveted to the heat sink; you can't remove the brackets without drilling out the rivets, but the fan's attached with four perfectly normal screws. You can buy the MCX kits with or without fans. You have to install the fan after you attach the cooler to your motherboard anyway, so if you've got an 80mm fan you'd prefer to use, it won't be any extra work.
Along with the P4 mounting brackets, the MCX that Swiftech sent me came with their standard fan for it, Delta's grunty FFB0812SHE. This fan's got a mere 68.5 cubic foot per minute free-air flow rating from 12 volts, versus 80cfm for the outrageous FFB0812EHE that OCZ strapped onto the Goliath they sent me for review, but the SHE version is still far more powerful than most 80mm fans. From 12 volts, it's got a constant current draw of about 550 milliamps and a start-up peak exceeding 1.5 amps (which is why it's got a four-pin plug attached to it for power and a one-wire three-pin connector if you want to monitor its speed), and it's about as rackety as the most obnoxious super-fast 60mm fans. The note the FFB0812SHE plays is lower than that from the 60mm screamers, but it's just as obnoxious, if you ask me.
Accordingly, Swiftech offer, and sent me, an optional $US8.90 rheostat that lets you turn the fan power down.
The Delta fan will, unusually, spin from as little as three volts - it draws only about 270 milliwatts at that voltage. It's pretty much totally silent at that power level, as you'd expect; it only starts making a significant noise when you get to about seven volts, for about 800 milliwatt power draw.
If you're happy with those power levels, though, it's daft to get them from a Delta with a 12 volt run power of 6.6 watts and start-up draw of more than 15W. Running an MCX heat sink with a low power, silent fan is not at all a bad idea, but you can do that with a cheap case fan, for a lot less than the $US17 extra that Swiftech charge for the fan-included versions of the MCX.
Accordingly, the Swiftech rheostat can't drop the fan voltage very much. On its max-power setting, the speed control actually does nothing significant at all; the fan continues to run at full power, with only about 20 millivolts dropped across the variable resistor.
Wind the potentiometer knob down to minimum and it drops about 3.2 volts from 12V input, giving slightly less than half power. The fan's still far from inaudible at this power level, but it wouldn't be too bad once you stick it in a case. It's not nearly as irritating as a high power 60mm unit any more.
The MCX462 with the Delta fan has a suggested retail price of $US72; the "MCX462-B" package with no fan is $US55. For the money, and considering its vast proportions, you'd want it to be a really top-flight performer. And it is.
With the fan wound down to minimum power, it scored 0.57°C/W; not far from being as good as any cooler I've tested. With the fan at full power, it scored 0.52°C/W, edging out every other Socket A/370 air cooler in the comparison until then. Now I've checked out the Thermaltake Volcano 7+, though, and that's just as good, despite having a much less ludicrous fan. The difference between 0.52 and 0.55°C/W (or so) is also small enough not to matter; there are quite a lot of coolers in this bracket.
I also have my doubts about the practicality of this cooler with the fan at full song, because it really is rather loud. But if you can tolerate the noise, you get performance to match.
If you're interested in using one of the P4 MCX variants, check out how they scored here.
The TaiSol CGK760 is the cooler Aus PC Market are now providing as standard with the faster Athlon CPUs they sell, and in stock form it's a good choice for everybody but rabid overclockers. With a small upgrade, it's a good choice for the tweakers, too. It sells for $AU35.20, delivered, by itself.
The CGK760 has a small, speedy but reasonably quiet low-profile fan on top of an unusually high-quality heat sink, for such a cheap cooler. The sink looks like a slightly second-class Alpha product, with lots of tall flattened-oval-section fins...
...and this good-sized copper slab inset into its base.
There's a three-point clip that engages as many hooks as your CPU socket has on each side, so you can use this cooler on sockets with a broken centre hook, as long as they've got intact hooks on either side. It's a screwdriver-attach design, but not a bad one.
With the stock fan, this cooler turned in an excellent 0.65°C/W result; not in tweaky-cooler territory, but more than adequate for any socket CPU at stock speed, and very good for a small-fan cooler.
The reason for this respectable performance is the power of the fan - it's actually a middleweight unit with a 2.64 watt nominal rating, and moves quite a bit of air despite its slim profile.
Swapping in a nominal 2.16 watt full height Y.S Tech fan actually slightly reduced the TaiSol cooler's performance. When I replaced the quiet Y.S. Tech fan with a howling 9.96-watt-nominal Delta Focussed Flow super-tall monster, the cooler managed 0.58°C/W. Which isn't going to break any records, but is a very fine result for such a cheap heat sink. If you want to make an annoyingly loud cooler out of a cheap and fairly quiet one, this would seem to be a good heat sink to use.
Even with its stock fan, this is as much cooler as most people need, and the price is right. Recommended.
Australian buyers can click here to go to the Aus PC site if they want to buy a CGK760.
Thermal Integration TI-S86
If the TI-V77L is too big - or too expensive - for your application, Thermal Integration can accommodate you, with a cooler that's got the 70mm width of their bigger product, but only 60mm depth.
The TI-S86 is basically just a somewhat truncated version of the V77L; curved radial fins, a neat lever-lock retention mechanism that works very well, and a reasonably quiet, low-profile 60mm fan, instead of the 70mm unit on the V77L.
The S86 version of this cooler (as opposed to the V86, below) has a solid aluminium heat sink, and it managed only 0.74°C/W in my test. Which is a decent result for a cooler with such a little fan, but isn't particularly exciting. A decent mainstream cooler; if you can get it cheap and don't intend to try any serious overclocking, a TI-S86 will it'll do you just fine.
Thermal Integration TI-V86
At a glance, this cooler's is exactly the same as the TI-S86. But it's got a TI-V77L-style copper core, for somewhat better performance.
The V86 is just as easy to attach, as the other lever-lock Thermal Integration coolers, the fan's just as quiet as the one on the TI-S86, and this ought to be a pretty cheap cooler. But the 0.71°C/W score it got when I tested it means that it's still no good if you're looking for Extreme Performance.
Thermal Integration TI-V77L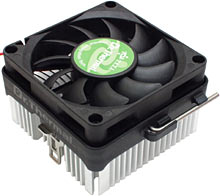 Another Cooler With Character. But not in a bad way.
At a glance, Thermal Integration's TI-V77L looks vaguely ThermoEngine-ish, but it's got some quirks of its own.
There's a lever-action locking mechanism, for instance, which makes attaching the cooler quite simple. And the heat sink may be considerably shorter than the ThermoEngine's, but it has a copper core, and wears a 70mm fan, not the usual 60mm.
With the fan removed, you can see the cam-action lever mechanism - which has enough give in it that this cooler ought not to crush any CPUs - and the curved pseudo-radial fins.
Does this fanciness pay off? Pretty much, yes. This cooler scored 0.70°C/W, helped along by a reasonable amount of air movement from the unusually wide low profile 11-bladed fan.
Since this cooler's only 46mm tall (1.8 inches), it could be a definite option for people looking for something that'll fit in a cramped case. The fan accounts for 15mm of the cooler's height; you could swap in a more powerful one if you liked, and still not have a very tall cooler. Aus PC Market are selling the TI-V77L for $AU46.20 delivered; that's not a bad price for what you get.
Thermal Integration TI-V77L with 80mm fan
The TI-V77L heat sink looks as if it's got considerable promise, but the fairly quiet stock fan keeps it well out of the leaderboard. And the fact that this thing wants a 70mm fan, not a standard 60 or 80mm unit, looks as if it ought to make user upgrades tricky.
However...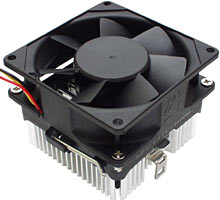 ...for $AU62.70 delivered, Aus PC Market will sell Aussies this. It's a TI-V77L with an 80mm medium power Sunon fan on it.
The fan is affixed thusly - chunky self-tapping screws biting into the lightly shaved outside of the cooler's air-guide shroud. It doesn't look particularly hacked-together, and the fan's very solidly attached. And the locking lever clears the side of the fan with no trouble.
The bigger fan makes the cooler significantly louder, but this still isn't a high-grunt screamer. And the extra air flow makes a large difference to the cooler's performance - at 0.62°C/W, it's not at all a bad product for the money.
Any adventurous overclocker could do this modification themselves, of course. As long as you've got screws that hold the fan down properly, the lever-lock mechanism will still work.
But if you just want to buy a not-too-loud, not-too-tall, not-too-expensive cooler with good performance, and you're lucky enough to be in Australia, Aus PC have what you need.
Or, alternatively, there's the factory option.
Thermal Integration TI-V77L with high power 70mm fan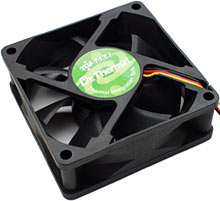 High power 70mm fans aren't easy to come by - which is why Aus PC came up with the 80mm hack shown above - but they do exist. This is Thermal Integration's factory-option 70mm full-height fan for overclockers.
This sucker draws a constant 0.8 amps at 12 volts - a (relatively) gigantic 9.6 watt run power. That's a lot more than most motherboards want to deliver via their fan headers, so the fan draws power from a four-pin pass-through PSU connector instead. There's also a single wire leading to one pin of a normal three-pin connector, so you can plug that into your motherboard for speed monitoring, if you care to use it.
Thanks to the speed monitor wire, I was able to establish that although Thermal Integration specify this fan as a 5000RPM unit, it's actually spinning at 6000RPM - which explains its high power draw.
The speedy 70mm fan's about as loud as the various 7-watt-and-up high power 60mm fans, but its bigger size makes the note it sings lower, so it's less obnoxious. Not a lot less obnoxious, I grant you, but you take what you can get in this business.
With some longer screws (which came with the fan) it was easy enough to mount the 70mm fan on a TI-V77L. The fan should actually be mounted with its frame side upwards, for the correct blowing-into-the-heat-sink orientation. The fact that it blows air in the opposite direction to most fans is something I didn't notice when I took the picture.
My enthusiasm for accuracy in information technology photojournalism was insufficient to induce me to re-photograph the cooler with the fan the right way up. But that's how I tested it.
With the correctly oriented high power fan humming away - and sucking easily twice as much power as the Sunon 80mm unit with which Aus PC had hopped up this same cooler - the V77L managed 0.58°C/W, an excellent result. Only about 7% better than the 80mm fan managed, but better nonetheless.
I wouldn't spend money on overseas shipping to get one of these 70mm fans when perfectly adequate 80s are available everywhere, but if your local Thermal Integration dealer's got 'em, and you don't mind the noise, they're clearly worth using.
Thermal Transtech NPH-2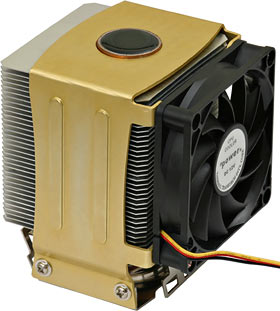 Weird, huh?
A darn good cooler, though, as you'll see if you check out the full review here.
Some engineer at Thermalright clearly got sick of designing fragile super-thin-fin heat sinks, because the AX-7 is not such an item. It's a great big shiny copper-bottomed radial-fin 80mm-square monster.
Like Thermalright's other high-end heat sinks, the AX-7 doesn't come as an assembled cooler; various resellers will presumably sell this sink with one or another 80mm fan pre-installed, but you ought to be able to get the basic fanless package as well, so you can fiddle around with your own air-movers.
You get a screw-and-spacer kit with the heat sink, so all you need to add is the fan. There are no assembly instructions included, but it's really not difficult. Thread screws through fan holes, put spacers on screws, screw fan into heat sink.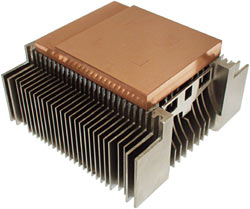 The base of the AX-7 is a very flat copper slab, with four corner-marks scored on it to indicate where the processor contact patch will be. The undercut design of the heat sink means that this is another Very Large Cooler which ought to fit OK on most motherboards; components near the CPU socket ought not to foul the heat sink unless they're unusually tall.
The AX-7 clip is a good one, too; a simple but well-centred one-piece unit, with three-hole clips on both ends. You need to use a screwdriver to attach it, but the screwdriver receiver is well made. So assuming you're not trying to attach the clip with your two foot long combination driver and paint stirrer, no disasters should occur.
So as to show their new baby off to its best advantage, Thermalright included a Delta FFB0812EHE with the AX-7 they sent to me. That's the terrifying, screaming, finger-munching 80mm Focussed Flow flagship fan, which no person with functional hearing is likely to actually want to use in their PC. It's the same fan that OCZ included on the Goliath they sent me for review, and it can be expected to work better on the AX-7, since this cooler's made for an 80mm fan. Attaching the Delta made this cooler about 85mm tall, counting the screw-heads on the top.
With the FFB0812EHE howling away, the AX-7 turned in a more than acceptable 0.54°C/W result, putting it up there with the best air coolers I've tested.
As previous experiments have shown, reducing a cooler's fan power does not proportionally reduce the cooler's effectiveness. Go for a fan a quarter the power of the giant Delta, and you'll only lose around 25% of the cooler's performance, if that. So with an ordinary medium power 80mm case fan buzzing away on it, this heat sink should still deliver results not far behind those from loud and nasty 60mm-fan coolers.
The AX-7 looks great, and is about as user-friendly as any 80mm-fan cooler can be. And if you demand a mirror finish on the bottom of your heat sink, then this sink's pretty much there already, right out of the box. It doesn't break all performance records, but it's up there with the best. Worth buying.
Shiny, baby. Super-shiny.
I got a pre-production sample of Thermalright's newest heat sink design to play with, and it's a pretty one.
It's not a thin-fin manufacturing showpiece like the SK-6, but it's still got its points of interest, chief among which is its mirror finish. That's bright nickel plate on top of a normal aluminium heat sink.
The bottom of the CB-6L, though, is one big solid slab of copper.
The cosmetic finish of the CB-6L I got to play with wasn't quite perfect - the copper base's solder joins were less than totally beautiful - but Thermalright assure me that the production version will be even prettier.
The retention clip on the CB-6L is an unremarkable screwdriver-attach job, which gives you the usual two options - you can use the correct size of screwdriver, or you can become very sad.
As I write this, Thermalright don't have any information up on their site about the CB-6L, but they tell me it'll retail for about $US29.95.
That price includes the standard DinkyFan ("DinkyFan" is a registered trademark of Not Very Good Industries), not a high-output unit. But you can, as usual, swap in whatever 60mm fan you want.
I wasn't expecting much from the slim, quiet standard fan, but I was pleasantly surprised when the stock CB-6L scored 0.71°C/W. Hardly a world-beating result, but not bloomin' bad for something without much air flow.
I swapped out the little fan and gave the CB-6L my high power Y.S. Tech 60mm monster instead, and now it scored a more pleasing 0.61°C/W.
If you want a quiet, good looking cooler with an OK price and respectable performance, the stock CB-6L fits the bill. With a more powerful fan, it can mix it with the better serious overclockers' coolers.
This, boys and girls, is what my contact at Thermalright calls "an entry level copper heat sink". Most other companies would call it their show-off piece; beautifully even skived fins, solid bright pink copper, sturdy fan-mounting frame, nice flat base. The clip's an unremarkable one-piece screwdriver-attach job, but everything else is pretty darn swish.
Still, by Thermalright's standards, this heat sink is apparently classified as boring and ugly.
The CKV-60 is another heat-sink-only product; just the heat sink and clip comes in the box from Thermalright, and the user or the reseller provides their own fan.
I tested the CKV-60 with my standard 2.16 watt (nominal) Y.S. Tech 60mm fan, which is quiet enough to be tolerable by most people (particularly when it's inside a case), but moves considerably more air than the low profile fans on many CPU coolers.
With this modest fan, the CKV-60 scored 0.62°C/W. Which is an excellent result for a not-too-loud cooler. Put a seven watt noisy-fan on it and it'd be scoring about as well as the really tweaky coolers in this comparison.
The CKV-60's base is very flat - put a ruler on it and you don't see light under it. But it's scored with small cutter-marks; it hasn't been polished. It wouldn't take long with a sheet of glass and some fine wet-and-dry paper to lap the sink's base to a high, flat polish, if you're enthusiastic enough.
Thermalright may not be especially proud of this product, but I like it. It works about as well as any 60-by-60mm heat sink I've seen, it's well made, and it looks nice.
I wouldn't pay big bucks to buy one from overseas, but if you find a local dealer's got CKV-60s, go ahead and buy one. You'll like it.
Another all-copper thin-fin number, Thermalright's SK-6 is provided by different retailers with different fans.
I got the "bare bones" kit, which includes everything but a fan. There are two sets of wire clips to hold a 60mm fan onto the top of the heat sink; one set suits normal 25mm high 60mm fans, and the other set suits taller 38mm high ones. There's a rather stiff screwdriver-assist retention clip, and there's also a couple of little stick-on thermal transfer compound squares, which you don't have to use if you don't want them.
And, of course, there's a groovy copper heat sink. It's got two banks of 36 fins, soldered to the base for superior thermal conductivity. The tops of the fins have an ingenious interlocked design that stops them from being bent when you clip a fan onto the cooler.
It's not cheap, though. The Overclockers UK online store has this heat sink with a Y.S. Tech FD6025 fan on it for £37.01 including VAT (about $US52, or $AU103, at time of writing), or with a 6800RPM Delta fan for £38.78 including VAT.
Y.S. Tech make 12 different models of 12 volt FD6025 (see their page here). But Overclockers UK quote a 26 cubic foot per minute air flow for theirs, which means it's one of the 4200RPM ball bearing models.
It is, in fact, very probably this one, the FD1260257B-2A.
With this modestly powered fan on it, the SK-6 cooler made no more noise than any other 4800RPM unit, and it turned in a very pleasing 0.62°C/W. That's a big win, for this fan power level.
I swapped the sensible Y.S. Tech fan for my non-sensible 7000RPM one, and now the SK6 managed 0.56°C/W - maybe very slightly better than the OCZ Gladiator with its similarly noisy fan, but there's really nothing in it.
For the money, the SK6 isn't good value as an all-out power-cooler, given how cheap the Gladiator is. The Thermalright heat sink makes a great cooler, there's no doubt about that - but it's expensive.
But with a slower fan, to soothe the ears of the less tolerant overclocker, this cooler still turns in a quality result. And it's very nicely engineered, too.
If you can afford it, and don't have to pay a zillion bucks to get it shipped to wherever you live, an SK6-based cooler is worth a serious look.
Thermalright SK-7
The same, only more so.
The SK-7 is an SK-6 with knobs on. Its design is basically the same, but the heat sink's bigger, and the clip's better. This sink can accommodate 60mm, 70mm and 80mm fans...
...with the appropriate mounting wires. Wire sets are available to suit a variety of fans, up to and including 38mm high 80mm diameter units, like the frankly ludicrous Delta FFB0812EHE (PDF datasheet here). The run power of the FFB0812EHE is about a quarter of what a standard 300mm desk fan draws, and it is of course horribly loud.
More sanely, you can install standard-height 80mm fans. This one's a Y.S. Tech unit with a 5.4 watt rating (half of the FFB0812EHE's draw...), and it's only moderately loud.
The 70mm-fan clips let you install exotics like the Y.S. Tech TMD fans as well, though. So I tried one of them too.
With the FFB0812EHE howling away on top of it, the SK-7 scored a gob-smacking 0.47°C/W. That's a hair worse than Thermalright's bigger SLK-800 with the same fan, but it's still an awesome result.
Not many people are likely to want to live with a top-spec Delta under their desk, though, so I dropped to the 5.4 watt Y.S. Tech. Now the SK-7 managed a still-excellent 0.52°C/W. And it scored the same when I swapped the 80mm Y.S. Tech for the lower power, quieter, smaller, more efficient 5800RPM TMD fan.
So the SK-7 is clearly up to Thermalright's high standards. It performs very, very well with medium power fans, and will utterly humiliate most of the competition if you give it a stupidly powerful fan instead. Heck, this thing'd cut it for overclocking even with a super-quiet low power 80mm case fan on it.
The SK-7 looks great and works very well. Recommended.
---
P4 coolers | Water cooling gear | Chipset coolers
---
Buy coolers!
Readers from Australia or New Zealand can purchase many of the coolers in this comparison, and the Y.S. Tech and Sunon fans, from Aus PC Market.
Click here!
(if you're NOT from Australia or New Zealand, Aus PC Market won't deliver to you. If you're in the USA, try a price search at DealTime!)
---
3A Cooler heat sink kindly provided by 3A Cooler.
Aerocool coolers kindly provided by Aerocool.
Alpha coolers kindly provided by Alpha.
Alpha PAL8045 with variable speed fan kindly provided by Microplex Norge.
Bitspower coolers kindly provided by Bitspower.
Cho-Liang coolers kindly provided by Cho-Liang.
Cooler Master coolers kindly provided by Rectron.
Coolink coolers kindly provided by PC Range.
Glacial Tech coolers kindly provided by Glacial Tech.
Ideal Elethermal coolers kindly provided by Ideal Elethermal.
Kanie Hedgehog and Tiger Cooler kindly provided by Cool PC CPU Cooling Australia (which doesn't sell the Hedgehog any more).
OCZ coolers kindly provided by OCZ, who sell them.
Power Cooler products kindly provided by Power Cooler.
Sibak Tech coolers kindly provided by Sibak.
Spire coolers kindly provided by Spire and Lownoise PC.
Swiftech MCX370-OA kindly provided by Swiftech.
Thermal Integration cooler kindly provided by Thermal Integration.
Thermalright coolers kindly provided by Thermalright.
Themaltake coolers kindly provided by Thermaltake.
TS Heatronics Zen CPU Radiator kindly provided by TS Heatronics.
Vantec coolers kindly provided by Vantec USA.
Zalman coolers kindly provided by Zalman Tech and Quiet Computer Systems.
Fan Expander kindly provided by HighSpeed PC, who sell them.